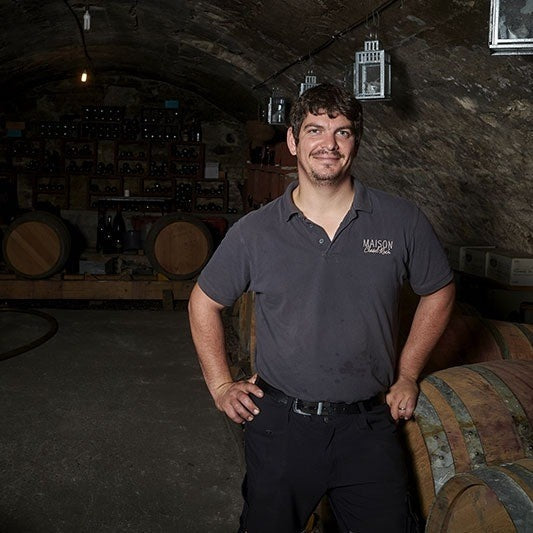 Clusel-Roch
Domaine Clusel-Roch, previously known as Domaine Clusel, represents a masterful blend of traditional winemaking and innovative viticulture. The winery was founded by René Clusel, who first began bottling his own wine in 1969. Today, Gilbert Clusel and his wife, Brigitte Roch, and their son Guillaume maintain the legacy with only 4 hectares of vineyards in Côte Rôtie and a half-hectare in Condrieu.

The distinguished parcel, Les Grandes Places, is at the heart of their holdings, initially planted by Baptiste Clusel, René's father, before World War II. They recognized the value of these old vines and, over the years, expanded their estate through the careful rental and cultivation of surrounding lands.

In 2002, Domaine Clusel-Roch formally embraced organic farming, demonstrating their deep respect for the land. Manual labor is favored over machinery, chemical fertilizers are shunned, and the soil is meticulously tilled using traditional tools. Vines are fortified against harsh winds using a twin-wood method, and medicinal herbs protect against diseases.

The winery's vineyards are primarily located in the northern part of Côte Rôtie, more specifically Côte Brune, which features decomposed schist soil rich in black and white mica. The vines' roots penetrate several meters deep, absorbing unique nutrients that contribute to the distinctive Côte Rôtie flavor.

The domaine primarily replants their vineyards with the local Serine Noir, a traditional Syrah variant, which they believe produces more complex aromas. Interspersed with the Syrah are approximately 4% Viognier vines. During harvest, meticulous manual selection and gentle vertical pressing enhance the wine's finesse.

Barrels from Maison Sirugue in Nuits-Saint-Georges, lightly toasted after three years of air drying, are used for aging, allowing the wood to harmonize, not dominate, the final wine. Native yeasts are favored over commercial ones, further emphasizing the vineyard's character.

Clusel-Roch's flagship cuvée, Côte Rôtie Les Grandes Places, is a testament to their commitment to traditional practices and terroir expression. Its production is limited, averaging 2,500 bottles annually, reinforcing the domaine's focus on quality over quantity. With a total annual production of approximately 15,000 bottles, Domaine Clusel-Roch offers wines that are indeed unique and worthy of both drinking and collecting.
No Results Found
We're so sorry to disappoint, but it looks like we don't have anything matching your search at this time. To receive an alert if something becomes available in the future, please click the button below.