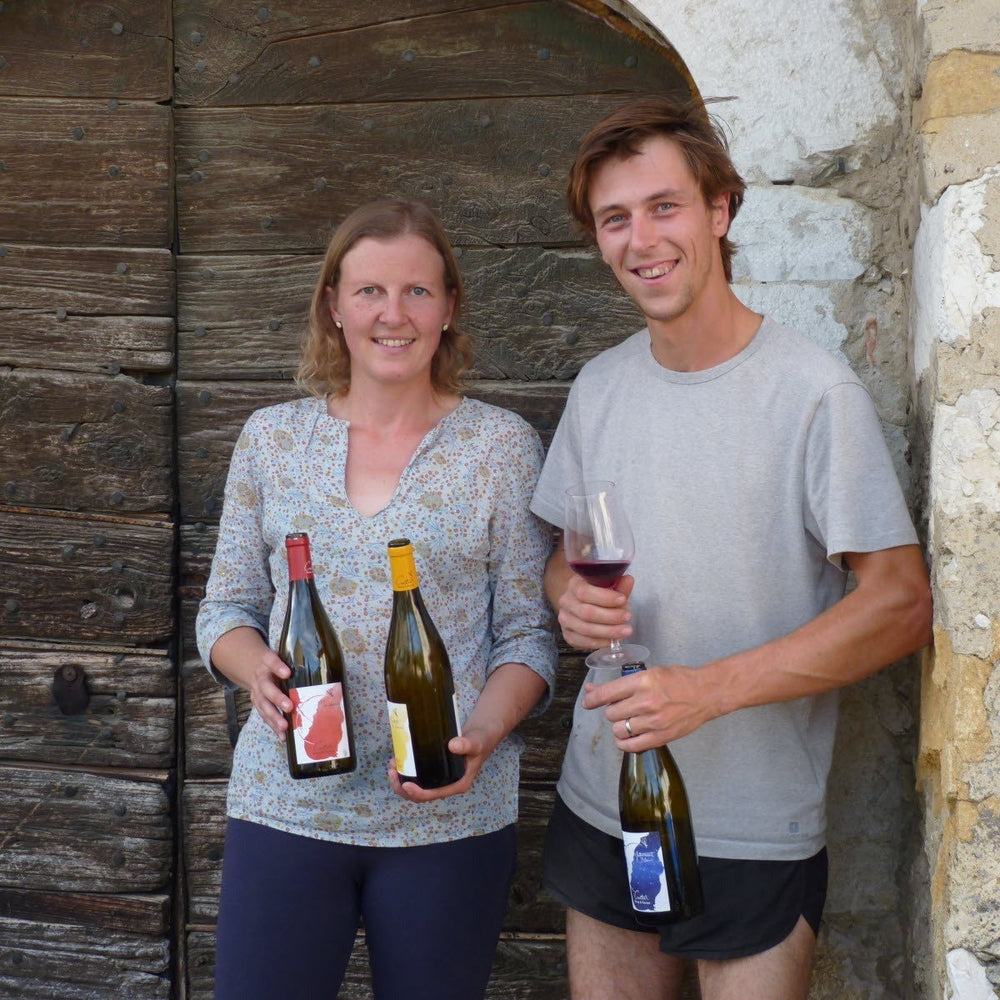 Marie & Florian Curtet
Domaine Curtet, under the guidance of Marie and Florian Curtet, serves as a prime example of a biodynamic estate that fuses the spirit of non-interventionist winemaking with the essence of their unique terroir. Having taken over Jacques Maillet's 5-hectare vineyard in 2017, the Curtets demonstrate masterful biodynamic techniques, fostering biodiversity and nurturing their lands with teas and infusions.

The vineyard, which is divided into two key sites, namely Vignes du Seigneur and Cellier des Pauvres, is planted with traditional Savoie varieties—Mondeuse, Jacquère, Altesse—along with a massale selection of Gringet, Savagnin, Molette, and the rare Mondeuse Blanche. Their steep vineyard slopes overlook the Rhône River, with decomposed sandstone soils imbuing the wines with freshness and remarkable aging potential.

Their winemaking approach is simple yet effective: whole-bunch maceration for reds and direct pressing for whites, with minimal use of sulfur. The resultant wines are a testament to the Curtets' philosophy and dedication, expressed in limited productions of 2000-2500 cases per year.

The epitome of their craftsmanship is showcased in their Tonnere de Gris white blend. This pale golden nectar tantalizes the senses with notes of apples, chamomile, and bee pollen. On the palate, it electrifies with flavors of bright lemon, apple, and grapefruit, supported by striking acidity, without the usual heavy mineral notes associated with limestone-grown grapes.

Their Frisson des Cimes red blend, a harmonious blend of Gamay, Mondeuse, and Pinot Noir, is another marvel. A medium garnet hue in the glass heralds aromas of wild berries, herbs, and floral perfumes, akin to a summer garden stroll. On the palate, the vibrancy of the berries and flowers, caressed by faint velvety tannins and animated by exceptional acidity, makes for a seamless experience.

Beyond wine, the Curtets look to the future with plans to venture into cider production, a tribute to Marie's Brittany heritage. Domaine Curtet is a testament to the Curtets' creative innovation and an authentic manifestation of their unique terroir.
No Results Found
We're so sorry to disappoint, but it looks like we don't have anything matching your search at this time. To receive an alert if something becomes available in the future, please click the button below.