1967 Chateau Ducru-Beaucaillou
#170335698
Add to Favorites
Ridiculously low 2-day shipping. Add to cart to calculate cost.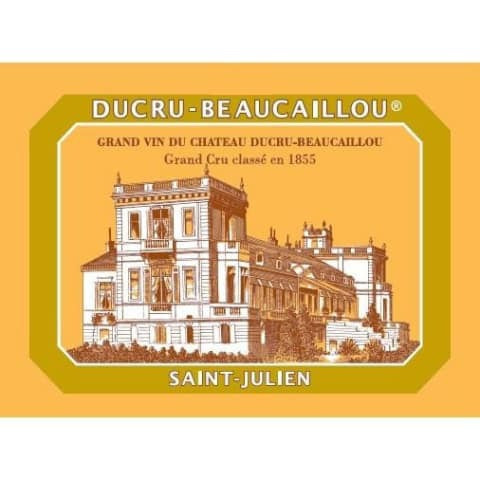 Château Ducru-Beaucaillou, located in the prestigious Saint-Julien appellation of Bordeaux, is often considered a prime example of the region. Named after the beautiful stones ("beau caillou" in French) that characterize its unique terroir, Ducru-Beaucaillou stands as a testament to the remarkable quality of its vineyards.
The 75-hectare vineyard is strategically positioned on the eastern edge of the communal terroir of Saint-Julien, benefiting from its proximity to the Gironde estuary. The terroir is dominated by a layer of Gunzian gravel deposited by the Garonne River over two million years ago. These beautiful pebbles have several advantages for viticulture, including excellent drainage, sunlight reflection, heat retention, and a protective layer that prevents the soil from drying out during dry periods.
The vineyard is carefully tended by Bruno Borie, the owner of Château Ducru-Beaucaillou, and his team. They employ meticulous viticultural practices, including manual harvesting and a rigorous grape selection process. The vineyard is planted with a blend of grape varieties, with 65% Cabernet Sauvignon, 25% Merlot, 5% Cabernet Franc, and 5% Petit Verdot. The specific proportions that go into the wine may vary depending on the vintage.
The winemaking process at Ducru-Beaucaillou is marked by precision and perfection. Jacques Boissenot and his son Eric, esteemed oenologists, serve as consultants, ensuring the highest standards are maintained. Vinification techniques evolve each year to capture the unique characteristics of the grapes harvested. The use of three sorting tables, including one at the vineyard, and an optical sorting machine guarantee optimal grape quality.
The Château Ducru-Beaucaillou wine is considered the epitome of Médoc wines. It exhibits the quintessential traits of the region, displaying complexity, structure, and elegance. The blend of Cabernet Sauvignon, Merlot, Cabernet Franc, and Petit Verdot contribute to the wine's depth and balance. The aging process takes place in 75% to 90% new French oak barrels for 18 to 20 months, imparting additional complexity and refinement.
Château Ducru-Beaucaillou also produces several other wines, including La Croix Ducru-Beaucaillou, a distinct expression of vines located further inland, and Le Petit Ducru de Ducru-Beaucaillou, which replaced Lalande-Borie as a third wine. These wines offer further opportunities to experience the exceptional quality and craftsmanship of this esteemed estate.
With every vintage, Château Ducru-Beaucaillou continues to uphold its legacy as one of Bordeaux's finest producers. The meticulous attention to detail in the vineyard and the cellar, along with the unique terroir and exceptional winemaking techniques, contribute to the creation of wines highly regarded and sought after by wine enthusiasts worldwide.