1977 Bodegas Vega-Sicilia Ribera del Duero Valbuena 5
#167610337
Add to Favorites
Ridiculously low 2-day shipping. Add to cart to calculate cost.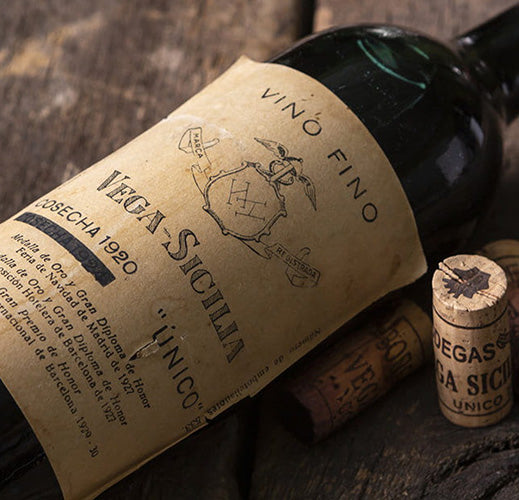 Bodegas Vega-Sicilia, renowned for its uncompromising winemaking precision, holds an elevated status in Spain's Ribera del Duero region. This esteemed producer, consistently lauded by critics like Robert Parker and Jay Miller, is synonymous with superior quality wines, cultivated from an expansive estate of about 1,000 hectares, with 210 hectares dedicated to vine cultivation.
The vineyard practices meticulous green harvesting, grape selection, and yield control to ensure the caliber of their harvest. Predominantly planted with Tempranillo, the vineyard also boasts Cabernet Sauvignon, Merlot, and a slight presence of Malbec. This careful cultivation and diversity of grapes set the stage for Vega-Sicilia's iconic range of wines.
The flagship, Unico, embodies the essence of Vega-Sicilia's craft, composed mainly of Tempranillo and select Bordeaux varietals and only produced in top vintages. Unico Reserva Especial, an intriguing blend of multiple exceptional Unico vintages, exhibits an unmatched complexity from a decade to three decades of aging. Valbuena 5°, crafted from younger vines, brings Vega-Sicilia's exceptional quality at a more accessible price point.
Vega-Sicilia's rigorous winery operations involve a nuanced system of rackings between large barrels and barriques, blending old and new oak. This sophisticated process cultivates wines with notable longevity.
Beyond their home estate, Vega-Sicilia owns additional wineries, including
Bodegas Alión
,
Bodegas Pintia
, the Deiva winery in Rías Baixas, and the Tokaj estate, Oremus. Their influence extends further into a joint venture with Compagnie Viticole Baron Edmond de Rothschild, resulting in the creation of Macán, a Rioja estate known for its gravity-fed winery.
Situated in Valbuena de Duero, Bodegas Vega-Sicilia continues to uphold its distinctive winemaking legacy, bringing forth wines that both embody and elevate Spanish viticulture.