Add to Favorites
Reviews 100 points Wine Advocate "...dense ruby/purple with no lightening at the edge. In the mouth the wine cuts a broad swath, with spectacular intensity, richness, massive concentration, and high levels of tannin, yet the wine is fabulously well-delineated and like its sibling, the 1990, has a finish that goes on for nearly a minute. (RP)" 100 points Vinous "It still provides that almost surreal cornucopia of aromas, red fruit melted with tar, tobacco, hints of camphor and ash, all delivered with astonishing precision. The palate is perfectly balanced, intense yet paradoxically weightless. This example is one of the finest I have encountered in terms of clarity and precision. Ethereal. If you want to taste a genuine 100-point wine then step this way. Magnificent! (NM)"
Ridiculously low 2-day shipping. Add to cart to calculate cost.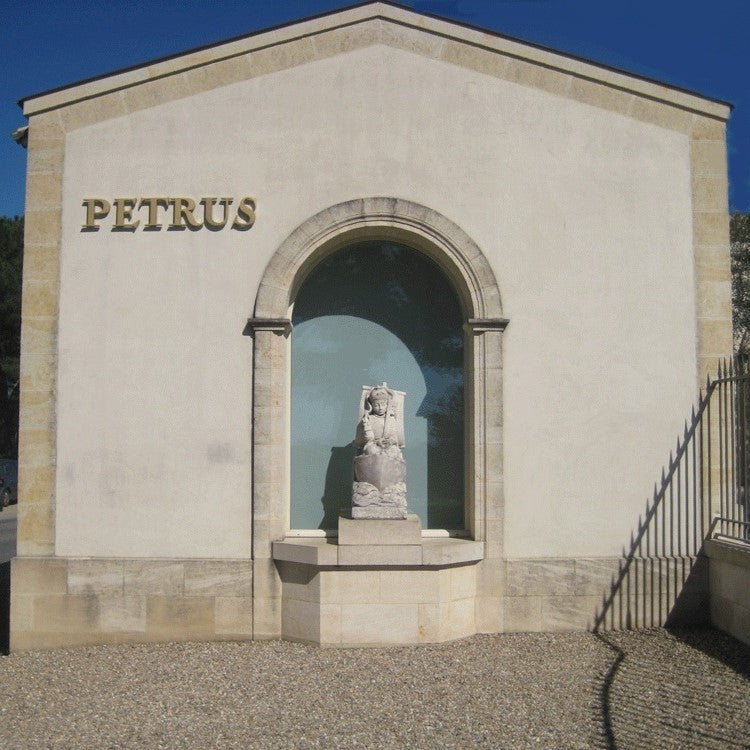 Petrus, nestled in Bordeaux's Pomerol appellation, is a wine producer of outstanding reputation, revered for its meticulously crafted wines and distinctive terroir. Emerging from modest origins, it has carved a niche in the world of fine wine, achieving iconic status due to a unique fusion of tradition and innovation.

The vineyards of Petrus, spanning over 11.5 hectares, sit atop the Pomerol plateau, the region's highest elevation. These vineyards consist entirely of clay - an anomaly in viticulture since clay usually settles at the bottom of slopes. The topsoil comprises 60 to 80 centimeters of dark clay, with a unique, dense, blue clay subsoil that creates a unique wine profile. The vineyard is entirely planted with Merlot, a shift from the early years when it was split 80/20 between Merlot and Cabernet Franc.

From the meticulous harvest of individual berries to its innovative approach to replanting, Petrus has focused on preserving quality and authenticity. The winemaking process includes parcel-by-parcel vinification in 12 traditional, temperature-controlled concrete vats. To promote quality, grapes undergo a short pre-fermentation maceration, with extraction done by pump-overs. Once malolactic fermentation is complete, only the finest vats are blended and aged in French oak barrels for 18-20 months.

The present owners, Jean-Francois Moueix and his children, along with winemaker Olivier Berrouet, have ushered in a new era of precision and full-bodied richness. Their approach to winemaking resulted in fuller, fresher, and more lush wines while also exhibiting higher alcohol levels.

Petrus' illustrious reputation is cemented by its absolute commitment to quality. Unlike many other producers, Petrus does not produce a second wine; lots that do not meet their high standards are sold off as generic Pomerol. Additionally, Petrus has always been cautious about using new oak in the aging process, ensuring the wine's intrinsic character remains uncompromised.

Petrus wines are renowned for their remarkable complexity and longevity. Notes of spice, coffee, cinnamon, chocolate, and dark cherries, layered with earthy undertones, give Petrus a distinct aromatic profile. With their silky, velvet texture and high tannin levels, Petrus wines need time to evolve, requiring 20-30 years to fully mature and express their extraordinary richness and depth. For the discerning wine collector or connoisseur, Petrus is an irresistible journey of taste, representing a wine that is both unique and collectible.