1995 Deutz Champagne Cuvee William Deutz
#158218421
Add to Favorites
Reviews 92 points Vinous "Sharply focused, rather shy aromas of lemon, apple, nuts and toast. Powerfully constituted, full in the mouth and extremely backward but boasts excellent balance from the outset. Very brisk, structured wine, in need of several years of additional bottle aging. Finishes with exotic spice notes of cumin and coriander. (ST)" 18 points Jancis Robinson "Mid gold. A vintage not given the recognition it deserved, according to Fabrice Rosset. Acidity seems lower than 1996 (analytically it is not) but still high. Smells very fine and fresh, and extremely delicate. More intense and complex on the palate, with a yeasty tang but also some mandarin fruit. Fresh white fruit too. Extreme refinement, elegance and length. Delicious – has both depth of flavour and great elegance. Perfect balance and refined texture. (JH)"
Ridiculously low 2-day shipping. Add to cart to calculate cost.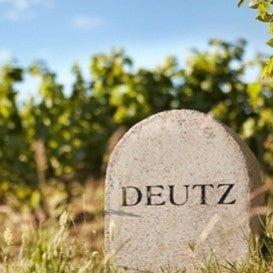 Situated in the distinguished Champagne town of Ay, Deutz thrives in Pinot Noir terroir, acquiring the grape variety from prestigious vineyards in Verzenay, Mailly, and Mareuil sur Ay. Despite its renowned status as a Pinot Noir house, Deutz equally excels in creating two distinctive blanc de blancs - the vintage bottling and the exquisite Amour de Deutz, with Chardonnay sourced from Côte des Blancs' prime vineyards in Avize, Mesnil sur Oger, Chouilly, and Oger.
Deutz's production draws from an impressive 216 hectares of vineyards across Champagne, of which 42 hectares are privately owned. The remainder of its grape requirements are fulfilled by long-standing grower collaborations. Its own press houses are located in Ay, Bouzy, and the Côte des Blancs.
Revitalized in the late 20th century, Deutz was purchased by the Rouzaud family, owners of the illustrious
Louis Roederer
Champagne, following a period of underinvestment. Its resurgence is largely credited to the strategic leadership of President and CEO Fabrice Rosset. Guided by his vision and rigorous reinvestment, the Deutz Champagne range has notably expanded, its production soaring from 600,000 bottles in 1996 to nearly 2.4 million in 2018 under the meticulous care of Chef de Cave, Michel Davesne.
Deutz's Champagne lineup, ranging from its Brut Classic and Brut Rosé non-vintage Champagnes to its distinguished vintage, vintage rosé, vintage Blanc de Blancs, and prestige cuvées, underscores traditional winemaking with a distinct preference for vinification in stainless steel vats. This approach ensures the preservation of the wines' purity and freshness.
Notably, the iconic
Cuvée William Deutz
represents the epitome of this blending mastery, holding a substantial influence from its Pinot Noir constituents, sourced from premier vineyards including Verzenay, Mailly, and Mareuil sur Ay. The creation of Cuvée William Deutz is a meticulous craft, using only the juice from the first and gentlest pressing. This process, characterized by the weight of the grapes alone, yields the most desirable, elegant, and finely nuanced juice. Following this initial step, the wine undergoes a secondary fermentation in stainless steel tanks, maintaining freshness while allowing malolactic fermentation to introduce roundness and body to its texture.
Aged for an extended ten years on lees, Cuvée William Deutz develops unique autolytic aromas of brioche or rising bread dough, imparting an impressive complexity to the wine. It then rests for several more months in the cellars post-disgorgement before its release, making it one of the last Tête de Cuvées to enter the market.
The Deutz style, according to Davesne, is characterized by elegance, finesse, and vinosity. Its wines offer an excellent aperitif but truly shine when paired with food, especially its vintage Champagnes, which develop remarkably well with bottle age.
With a profound commitment to quality and sustainability, Deutz epitomizes excellence in the Champagne region. Its wines, underscored by the dominant influence of the home estate's Pinot Noir and the elegant finesse of its first pressing juice, testify to a meticulous production process. Consequently, Deutz Champagne not only exemplifies refined taste but is also an enduring symbol of celebration.