1995 Salon Champagne Blanc de Blancs Brut
#158124386
Add to Favorites
Reviews 95 points Vinous "The 1995 Salon, disgorged a la volee and naturally sans dosage, is rich, ample and creamy. In this vertical, the 1995 stands out for its broad, ample frame and tropically-leaning overtones. So often, Salon is a Champagne of tension and focus. Even without dosage, the 1995 is distinctly more ample than is the norm and yet all the elements come together nicely just the same. (AG)"
Ridiculously low 2-day shipping. Add to cart to calculate cost.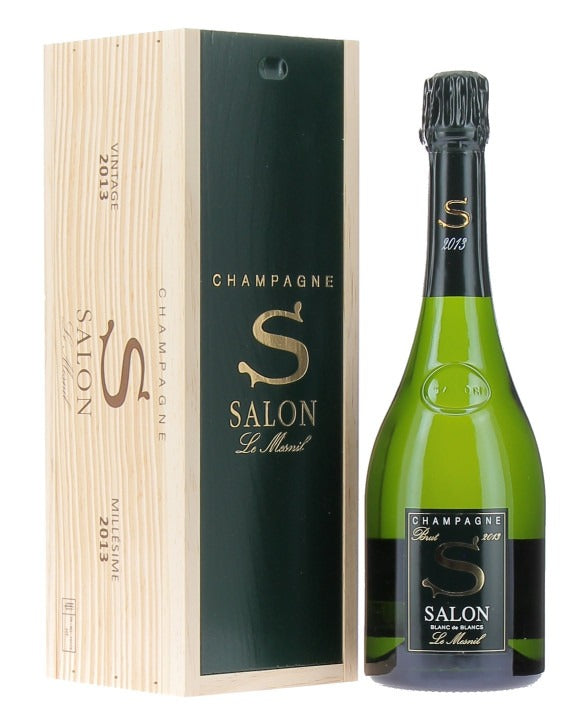 A renowned name in the world of Champagne, Salon has established itself as an epitome of singularity. The inception of this distinguished wine can be traced back to one man, Aimé Salon, who desired to create a product reflecting an uncompromised focus on excellence and uniqueness. His vision brought forth a Champagne derived exclusively from a single region, the Côte de Blancs, more precisely, from a single cru, Le Mesnil-sur-Oger. Salon is crafted solely from Chardonnay, the only varietal utilized, and is exclusively a product of single vintages, entirely devoid of blending.

The first vintage, created in 1911 with a 1905 base, showcased Aimé Salon's enchantment with the distinctive terroir of Le Mesnil. The house remained under Salon's guidance until his demise in 1943, when it was entrusted to his nephew. Later, in 1988, the family-run company, Champagne Laurent-Perrier, secured majority ownership of Champagne Salon, strengthening its legacy.

Nowadays, the direction of Salon is in the hands of Didier Depond, who also oversees its venerable sister house, Champagne Delamotte, one of the oldest in Champagne, established in 1760. Under Depond's guidance, the houses strive for perfection in their wine production, aiming to produce the finest and most exclusive Champagne. As such, Salon is recognized for its extraordinary balance, intricate complexity, and opulent aromas, garnering the admiration of the most discerning Champagne enthusiasts. It truly stands as a testament to the power of the singular, where precision and adherence to a singular vision can create something genuinely exceptional.