1998 Thierry Allemand Cornas Reynard
#110653750
Add to Favorites
Reviews 90 points Vinous "Saturated ruby-purple. Superripe aromas of blackberry liqueur, crushed blueberry, bitter chocolate, animal fur and pepper, along with a leafy, vegetal suggestion of very young syrah. Huge but rather monolithic, even austere. (ST)" 92 points John Gilman "The deep and youthful nose offers up a primary blend of black raspberries, cassis, game, stony soil tones, medicinal syrah overtones and a bit of new leather. On the palate the wine is full-bodied, concentrated and soil-driven, with a rock solid core of fruit, firm, chewy, but well-integrated tannins and excellent length and grip on the still fairly primary finish. (JG)"
Ridiculously low 2-day shipping. Add to cart to calculate cost.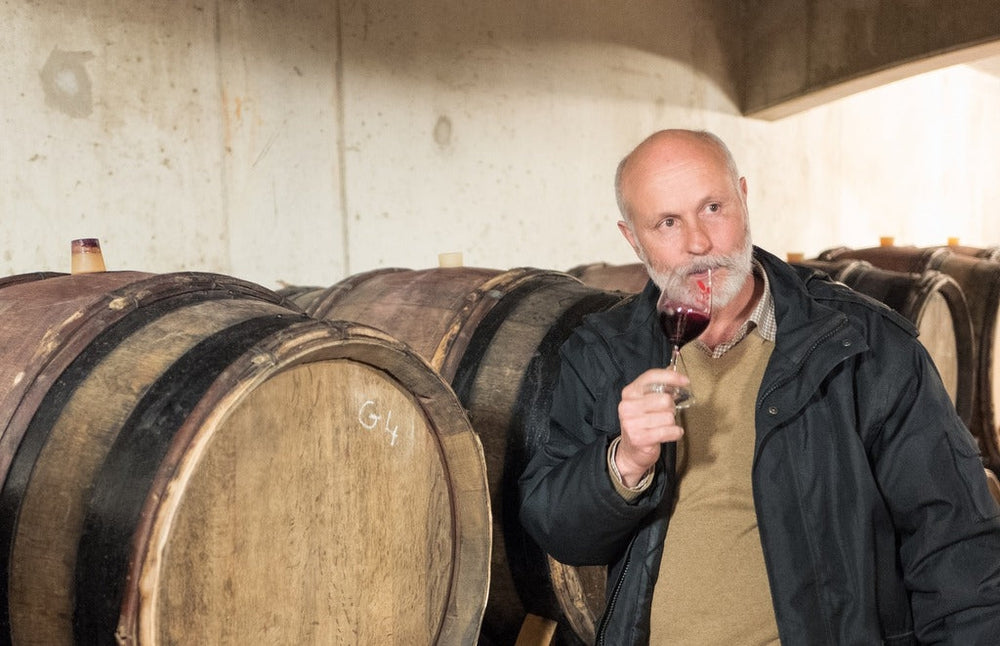 Nestled in the heart of Cornas, Thierry Allemand has emerged as a visionary, passionately reviving abandoned Syrah vineyards and championing organic farming practices since the 1980s. Today, with five hectares under cultivation, Allemand is hailed as one of the appellation's most revered producers.

Thierry Allemand's winemaking philosophy aligns with that of pioneers like Marcel & Mathieu Lapierre and Didier Barral. He emphasizes natural fermentations, minimal sulfur additions, and individual parcel fermentations to achieve unparalleled finesse and purity in his wines. Allemand employs whole-cluster fermentation in open-topped oak and stainless steel cuves, followed by manual cap punching. The wines are aged in a combination of oak barrels and foudres for up to 24 months before blending, and ultimately bottled unfined and unfiltered.

The vineyards of Thierry Allemand are spread across diverse terrains, each presenting its own challenges. Predominantly lying on granite subsoil with some clay, the sun-soaked, south-by-southeast-facing slopes allow for early ripening. Thierry's unwavering commitment to vineyard rehabilitation and terroir-driven winemaking has brought prestige and recognition to even the smallest Cornas lieux-dits.

Allemand's wines are a testament to his relentless quest for purity and terroir expression. They possess an unparalleled balance of power, fragrance, and finesse, redefining the standards for Syrah. With two legendary cuvées—Reynards, characterized by its structure and minerality, and Chaillot, a classic, gutsy, slow-to-mature wine—Thierry Allemand has captured the essence of Cornas' unique terroir, enchanting wine enthusiasts worldwide. His devotion to quality and innovation has rightfully earned him a cult status, making Thierry Allemand a true hero of Cornas.