1999 Produttori del Barbaresco Barbaresco Riserva Moccagatta
#170398155
Add to Favorites
Ridiculously low 2-day shipping. Add to cart to calculate cost.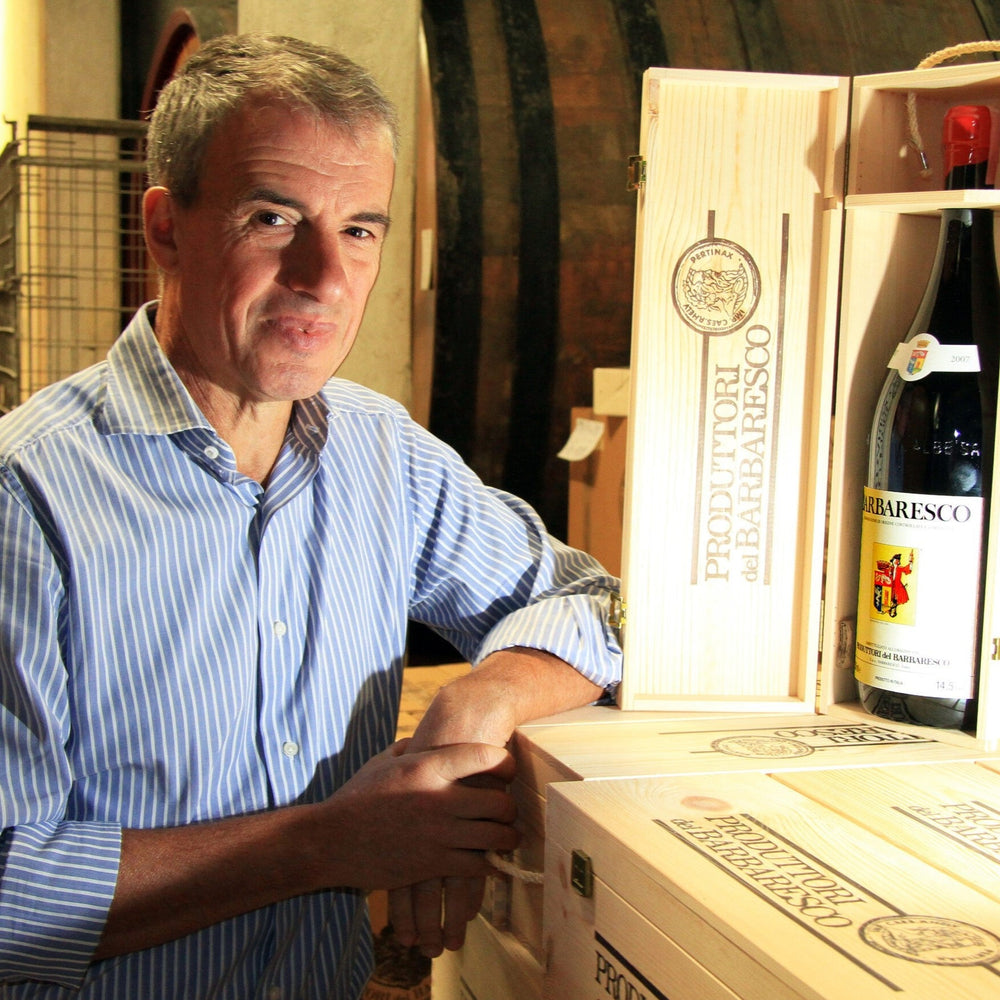 Produttori del Barbaresco, under the astute leadership of Aldo Vacca, truly personifies a blend of tradition and modernization in winemaking. Originating from the dedicated efforts of nine Barbaresco landowners, including Vacca's great-grandfather, this cooperative has grown to encompass about sixty members, all bound by their commitment to the excellence of viticulture and winemaking practices.

The cooperative's vineyards are uniquely positioned on steep slopes, with soils exhibiting a varied mix of clay and limestone, each contributing to the wines' distinctive character. Each plot within the Barbaresco DOCG, which the cooperative staunchly adheres to for their plantings, is known for its unique expression of Nebbiolo.

Ovello, Montefico, and Montestefano are situated in the north of the village, offering robust wines characterized by strong tannins and rich flavors of meat and earth. Positioned more centrally in Barbaresco are Pajé and Muncagota. These sites provide a balance of intensity and elegance, producing wines with exceptional aromatics.

The south-facing trio of Asili, Rabajà, and Pora are nestled below these sites. Asili, one of the smaller crus, delivers a striking minerality with a fruit profile that only unveils its depth with age. Rabajà, offering the most complex soils and the highest elevation, births wines that are full-bodied and teeming with black fruit flavors. Pora, often more accessible and inviting in its youth, has remarkable aging potential, evolving in depth and complexity over the years.

Last but not least, Rio Sordo, extending to the southern edge of the village, consistently proffers more contemplative wines. These wines are marked by their pronounced earthiness, exuding notes of truffle and game.

A combination of judicious vineyard management, modern equipment, and skilled winemaking ensures that these unique terroir characteristics are preserved and expressed in the wines. With a minimalistic approach towards the use of oak and a focused extraction process, Produttori del Barbaresco's wines reflect the purity and complexity of Nebbiolo.

Their single vineyard wines are the epitome of Barbaresco's diverse terroir. The democratic structure of the cooperative allows for the selection of the best grapes each vintage, crafting wines that are truly representative of the region's distinct terroirs.

Produttori del Barbaresco's wines, under Aldo Vacca's guidance, have successfully straddled the delicate balance between tradition and modernization. They offer a pure expression of the Piedmont terroir, and despite Barbaresco often playing second fiddle to Barolo, these wines stand as undeniable evidence that this region can produce wines of exceptional quality and unmatched value. They are truly treasures worth collecting and savoring.