2000 Chateau Palmer
#166273903
Add to Favorites
Ridiculously low 2-day shipping. Add to cart to calculate cost.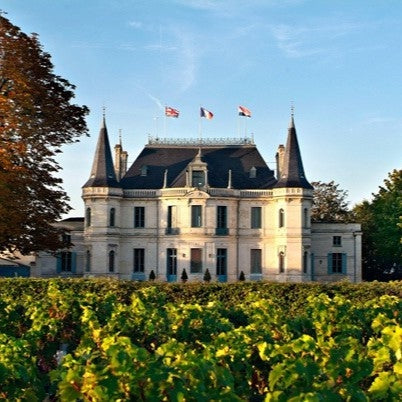 Chateau Palmer, nestled in the Margaux appellation of Bordeaux, is an iconic wine estate steered by two powerful negociants, Mahler Besse and Sichel, among 22 shareholders. At the helm since 2004, Thomas Duroux, an energetic agronomist and oenologist, has ushered Chateau Palmer into a golden era of winemaking, initiating essential improvements for refining the estate's wines.

Throughout the years, Chateau Palmer has modernized its infrastructure. The vat rooms and chai were renovated in 1995, and the estate added 42 temperature-controlled, conical-shaped, stainless steel vats to facilitate parcel-by-parcel vinification, enhancing the precision of the winemaking process. The estate has two cellars, including the first-year cellar, which houses wine from the current vintage for one year. Major renovations beginning in 2010 included updating the grape reception area, vat rooms, and barrel cellar, along with new sorting facilities, bottling operations, and a dedicated tasting room. The revamp also saw the construction of a unique new barrel cellar, crafted to evoke the sensation of standing within a barrel, and an experimental winemaking cellar.

The estate produces two signature wines: Chateau Palmer and its Alter Ego. The latter debuted with the 1998 vintage, following the acquisition of eight hectares of vineyards that form its essence. The estate distinguishes Alter Ego as a unique wine, not a second wine, as it originates from different plots and boasts a different blend.

A standout in Chateau Palmer's repertoire is the Historical XIX Century Wine, first introduced in 2004. This intriguing blend of 85% Bordeaux varietals from Chateau Palmer and 15% Syrah from the Rhone pays tribute to wines of the 19th century. The production of this blend varies with the vintage, with releases in 2004, 2006, 2007, 2010, and 2013. Given the composition, this wine is sold as a Vin de Table or under the Vin de France designation.

The 66-hectare vineyard of Chateau Palmer, blessed with a complex mosaic of 18 different soil types across 106 parcels, cultivates 47% Merlot, 47% Cabernet Sauvignon, and 6% Petit Verdot. Unique among Left Bank estates, Chateau Palmer has an unusually high percentage of Merlot. The estate's diverse terroir and the blending of various grape varieties, clones, and rootstocks create the exceptional character of its wines.

In 2014, the estate transitioned to 100% biodynamic farming, gaining certification in 2017. This was complemented by a commitment to biodiversity, with fruit trees integrated within vineyards, and natural methods, such as herbal teas, employed to combat vineyard diseases.

The estate is also at the forefront of technology, utilizing optical sorting and infrared cameras to determine optimal harvest times. The winemaking process, undertaken in 54 temperature-controlled, stainless steel vats, followed by barrel aging, strongly emphasizes achieving phenolic ripeness and purity.

The estate's biodynamic approach, diversity of terroir, technological innovation, and dedication to improvement culminate in producing sensuous, elegant, and complex wines. With a commitment to continual evolution and a deep respect for tradition, Chateau Palmer exemplifies the excellence of Bordeaux winemaking.