2000 Vincent Dauvissat (Rene & Vincent) Chablis Grand Cru Les Clos
#167172571
Add to Favorites
Reviews 94 points Vinous "Bright medium yellow. Aromas of lemon, fleur de sel, marzipan (from the oak?) and powdered stone lifted by violet and lavender high notes; shows just a trace of the lactic quality this wine displayed eight or ten years ago. Slightly edgy flavors of lemon and liquid-stone minerality are juicy and zesty but not thick or particularly concentrated, with notes of almond, chlorophyll and anise contributing complexity. This elegant grand cru displays terrific mid-palate energy and finishes with subtle rising length but is less broad and aromatic than the 2002. (ST)" 95 points Burghound "This is stylistically reminiscent of a great Chevalier as it is a perfect embodiment of fruit, minerality, extract and purity with picture perfect balancing acidity. The nose offers up only the slightest hints of intense citrus fruits and white flowers with ample sea breeze and oyster-shell character that leads to medium weight flavors dripping with liquid rock-like minerality and plenty of fat to buffer the bracing acidity. This offers a wonderfully seductive combination of finesse, elegance, power and simply unbelievable persistence. (AM)" 96 points John Gilman "Once again in 2000 I found the Les Clos to be even a step up from the beautiful Les Preuses, soaring from the glass in a complex melange of green apples, lemon, grapefruit, wet stones, flinty soil tones, a bit of anise, vanillin oak and spring flowers in the upper register. On the palate the wine is full-bodied, deep and complex, with a rock solid core of minerally-tinged fruit, bracing acids, great length and intensity on the complex and palate-staining finish. This is a beautiful young Chablis that is as much solid mineral as it is fruit. (JG)"
Ridiculously low 2-day shipping. Add to cart to calculate cost.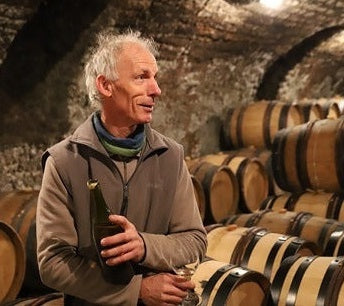 Vincent Dauvissat is undoubtedly one of the most celebrated domaines in the renowned Chablis region of Burgundy. Established in the 1920s, the estate came into its own in the 1970s when René joined his father, Robert, in the vineyards. Today, Vincent, the son of René, proudly continues the family legacy, meticulously farming 12 hectares of prime terroirs in Chablis.

The vineyard holdings of Vincent Dauvissat include some of the most prestigious sites in Chablis. They encompass premier cru vineyards such as Vaillons, La Forêt, Séchets, Montée de Tonnerre, and the grand cru vineyards of Les Preuses and Les Clos. These exceptional vineyards are situated on the prized Kimmeridgian limestone, which imparts a distinctive minerality and character to the wines.

Dauvissat's winemaking philosophy can be summarized as slow and steady wins the race. The vinification process begins with slow, natural fermentations in enamel cuves, where the wine rests for up to a year. It is then transferred to six-to-eight-year-old Nevers oak barrels for aging. While oak aging is rare in Chablis today, Vincent's judicious use of older barrels adds depth, structure, and age-worthiness to the wines without overshadowing their inherent character with oak flavors.

The wines of Dauvissat are renowned for their elegant texture, penetrating minerality, and depth of character. They possess a remarkable ability to age gracefully in the cellar while also delivering a captivating experience on the palate.

Among Dauvissat's portfolio, their grand crus, Les Clos and Les Preuses, stand as crown jewels. These extraordinary sites, along with the lesser-known premier cru vineyard of La Forêt, produce wines that rival the quality and complexity of the finest grand crus. La Forêt, in particular, displays a rounder, honeyed texture and deeper aromas and flavors, offering a weight and complexity that is typically found only in the best grand crus.

Vincent Dauvissat's commitment to preserving the integrity of the terroir is evident in his approach to winemaking. He practices natural farming with minimal intervention, allowing the vineyards to express themselves authentically. Hand-harvesting, spontaneous malolactic fermentation, and aging in older barrels further contribute to the wines' purity and sense of place.

While the wines of Domaine Vincent Dauvissat are highly sought-after and limited in availability, their unparalleled quality and unique expression of Chablis' terroir make them an exceptional choice for collectors and enthusiasts alike.