2002 Bollinger Champagne R.D. Extra Brut
#157342340
Add to Favorites
Reviews 18.5 points Jancis Robinson "Incredibly intense aromas – baked apple, cinnamon, freshly baked bread. Conventional and recognisably champagne, but to a greater, more intense degree. Some creamy coffee on the palate and wonderfully savoury salinity on the finish. Very, very long persistence. Champagne to the power of ten. (RH)" 94 points Burghound "Fully mature aromas are comprised by really lovely brioche, citrus and baked apple nuances. There is a notably refined bead to the mousse that is dense yet a little aeration allows the beautifully delineated yet subtly shaded full-bodied flavors to shine before culminating in a beautifully long, complex, intensely yeasty and classy finish. (AM)"
Ridiculously low 2-day shipping. Add to cart to calculate cost.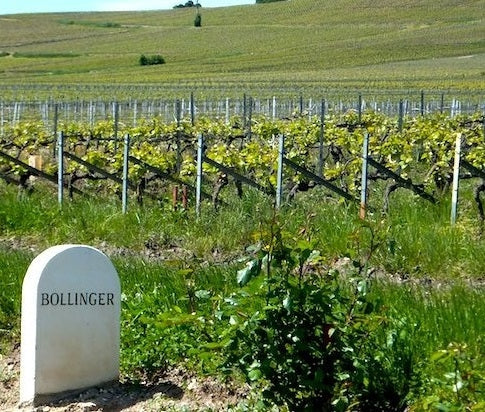 Bollinger, an esteemed Champagne producer, prides itself on the painstakingly crafted, innovative range of sparkling wines. After the untimely passing of Jacques Bollinger, his widow, Lily, took charge, developing the house's distinctively luxurious Champagne Bollinger R.D. Extra Brut. With the "R.D." standing for "recently disgorged," the wine is a blend of vintage Champagnes, carefully disgorged by hand to preserve the freshness of old vintages, something that sets Bollinger apart from other producers.

Lily Bollinger's legacy also includes the establishment of Vieilles Vignes Françaises, an old-vine cuvée birthed in two phylloxera-untouched vineyards, Clos Saint-Jacques and Clos Chaudes-Terres. Here, the rare provignage layering method is practiced, ensuring an authentic taste of Champagnes now lost to history.

Unlike most Champagne houses that have switched to stainless steel for aging, Bollinger maintains traditional oak barrel aging, housing over 4,000 barrels, some over a century old, sourced from Burgundy. This practice offers a unique, sweet aromatic complexity to their Champagnes.

In another distinctive approach, Bollinger bottles its finest reserves in magnums, allowing them to age on cellar shelves. These wines undergo a secondary fermentation before bottling and add to the collection of over 800,000 magnums in Bollinger's cellar, subsequently used for their Special Cuvée release.

A significant feature of Bollinger wines is the high percentage of Pinot Noir, comprising around 60% of their blends, despite only making up 38% of the region's total grape cultivation. This inclusion is reflected in their Special Cuvée release.

Another noteworthy offering is the Grande Année Cuvee, a vintage Champagne blending 65% Pinot Noir and 35% Chardonnay. This cuvée is only produced in years of exceptional harvest. After extended aging on its lees, every bottle of La Grande Année is riddled and disgorged by hand.

These intricate processes and practices distinctly define Bollinger as a Champagne house dedicated to preserving tradition while continually pursuing excellence.