2002 Domaine Leroy Clos de la Roche
#170398164
Add to Favorites
Reviews 96 points Wine Advocate "The ruby-colored 2002 Clos de La Roche sports an earthy, herbal, black fruit and spice-packed nose. Medium-bodied, deep, and fresh, this structured, somewhat tannic wine offers flavors reminiscent of red cherries, raspberries, and spices. It has lovely purity, concentration, and length. (PR)" 96 points Vinous "Deep red-ruby. Quintessential Clos de la Roche aromas of small wild red fruits, minerals, gunflint, mocha, smoke and spices. Dense, sappy and gripping, with extremely primary fruit character and deep spiciness; shows a level of vibrancy rare for the vintage. A wine of great definition and freshness, with explosive finishing flavors. (ST)" 96 points Burghound "Roasted coffee and very ripe earth aromas combine with notes of cassis, minerals and pure pinot extract and seamlessly merge into huge, indeed almost massive flavors of colossal proportions and such complexity that it rivals the RSV for sheer breadth of expression. This is dynamic, vibrant and almost implausibly long. (AM)"
Ridiculously low 2-day shipping. Add to cart to calculate cost.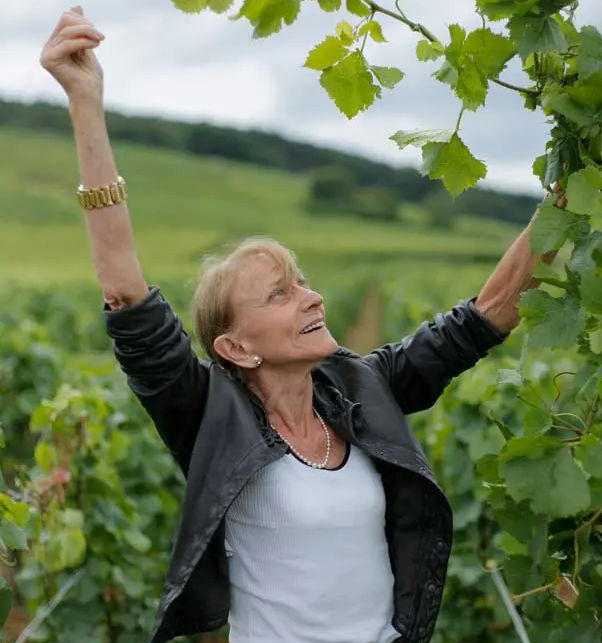 The Leroy's have a rich family history of winemaking, with their great ancestor Francois Leroy selling his wines back in 1851! It wasn't until 1868 that Maison Leroy was officially founded and set a precedent for what is widely viewed today as one of Burgundy's very best.
From 1868 on, several generations of men led the Domaine, and acquired key vineyards; most notably, the prestigious Romanee Conti vineyard. However, it wasn't until our "Queen of Burgundy," Lalou Bize-Leroy took over, that the Domaine broke the glass ceiling.
Lalou Bize-Leroy is many things; once a partner in Domaine de la Romanee Conti, she is one of few female winemakers/owners in Burgundy, an extreme perfectionist, and an absolute trailblazer. Some might call her controversial, as she has pushed the boundaries of Burgundy with strict biodynamic farming since 1988 and meticulous natural winemaking in the cellar ahead of her time. The results are lauded by critics and collectors alike, including Robert Parker, who has observed that "her wines embarrass much of what is produced in Burgundy," and "qualitatively have no peers."
Whether you acquire a bottle of Domaine Leroy, Maison Leroy, or Domaine d'Auvenay, you can trust that these sumptuous, pure wines will impress with their length and profound complexity.