2005 Chateau Margaux
#166273914
Add to Favorites
Ridiculously low 2-day shipping. Add to cart to calculate cost.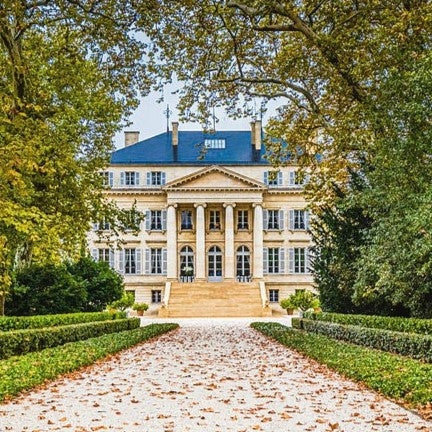 Château Margaux has a long-standing reputation for producing exceptional wines. The estate traces its roots back to the 12th century when it was known as "La Mothe de Margaux." The name originated from the region's flat landscape, making even the slightest elevation noteworthy for its potential for quality vine cultivation. Over time, the estate underwent significant transformations under different owners, but the Lestonnac family in the 16th century established the estate as it exists today.
Throughout its history, Château Margaux has seen notable advancements in winemaking practices. In the early 18th century, Berlon, a key figure, separated the vinification of red and white grapes and emphasized the importance of soil quality. These innovations marked the beginning of modern winemaking techniques and an understanding of the influence of terroir.
The Château Margaux estate spans 262 hectares, with 82 hectares dedicated to 75% Cabernet Sauvignon, 20% Merlot, 3% Petit Verdot, and 2% Cabernet Franc for the red wine grapes. Over the years, there has been an increase in the amount of Cabernet Sauvignon planted, resulting in an average blend containing close to 85% Cabernet Sauvignon in most vintages.
The average age of the vines is 35 years, but some parcels boast Cabernet Sauvignon vines over 80 years old, while the Merlot and Petit Verdot vines are around 60 years old. The vineyards primarily employ organic farming practices, with the Grand Vin grapes farmed organically since the 2017 vintage. The production of their second wine, Pavillon Rouge, also incorporates organic methods.
The red wine production at Château Margaux involves vinification in a combination of wood and stainless steel vats. The estate possesses almost 100 vats made from oak and stainless steel, ranging in size from 5 to 180 hectoliters. Malolactic fermentation takes place in the vats, while the press wine undergoes malolactic fermentation in the barrel. The red wine is aged in 100% new oak for 18-24 months, depending on the vintage's quality.
Château Margaux produces a small quantity of white wine, called Pavillon Blanc du Château Margaux, from 11 hectares of Sauvignon Blanc vines. These vineyards are situated west of the chateau, featuring limestone soils and a cooler micro-climate. In most vintages, a minor portion of Semillon is occasionally included in the wine, but it is predominantly Sauvignon Blanc. Frost protection systems safeguard the white wine vines from potential frost damage. The grapes are whole-cluster pressed with no skin contact. Alcoholic fermentation commences in stainless steel tanks before the wine is transferred to 33% new French oak barrels for the remainder of the vinification and aging. There is no malolactic fermentation, and the wine is aged on its lees with stirring for 7-8 months before bottling.
Right on the grounds of Château Margaux, there's a charming cooperage where they craft many of the oak barrels that cradle their wines as they age. And to keep their bottles genuine and unique, they started adding a special touch with laser etchings in 1989. Plus, in 2011, they embraced the prooftag system to give counterfeiters a run for their money.
Compared to a few decades ago, the production of the Grand Vin has significantly decreased due to increased selectivity. In the 1980s, they produced over 20,000 cases of the Grand Vin, but by the 2000 vintage, it had dropped to below 17,000 cases. The trend of decreasing production continues, with the introduction of Margaux de Margaux as a third wine starting from the 2009 vintage. Additionally, a fourth wine produced from red grape varietals is sold in bulk to negociants. Currently, Château Margaux produces approximately 12,000 cases per year of their flagship wine, Château Margaux, along with 16,000 cases per year of Pavillon Rouge du Château Margaux, their second wine. Additionally, they produce around 1,600 cases per year of Pavillon Blanc du Château Margaux, their white wine.
The estate has made notable progress in elevating the quality of its wines since the Mentzelopoulos family took over, with Corinne Mentzelopoulos playing a crucial role. Overall, Château Margaux remains dedicated to producing wines of exceptional quality, preserving their esteemed heritage while continually striving for improvement. Their commitment to organic farming, meticulous vineyard management, precise winemaking techniques, and focus on authenticity has solidified their position as one of Bordeaux's most revered and sought-after wine estates.