2005 Chateau Mouton Rothschild
#170398430
Add to Favorites
Ridiculously low 2-day shipping. Add to cart to calculate cost.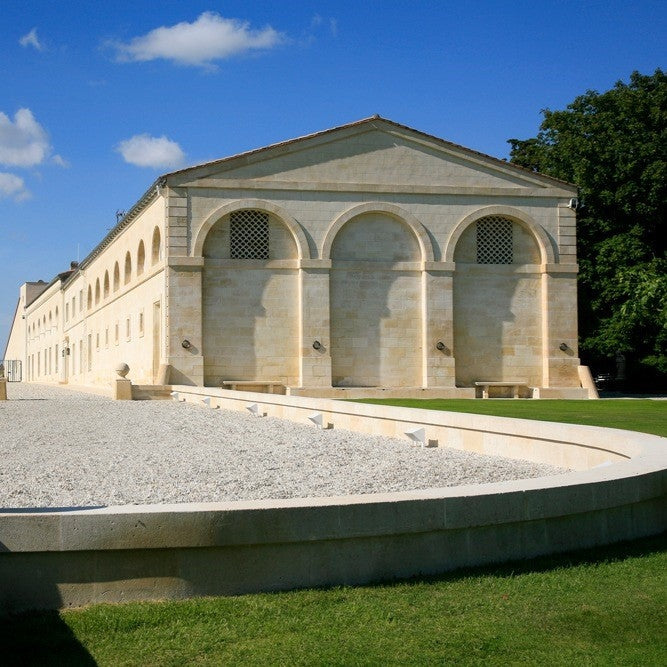 Baron Philippe Rothschild was just 20 years old when he took over the Chateau and introduced revolutionary practices that are now standard among Bordeaux's top producers. He initiated the process of bottling the wine at the estate, a concept unheard of at the time, allowing the vineyard to maintain complete control over its products. To commemorate this change, artist Jean Carlu was commissioned to design the 1924 label. This led to the tradition of featuring unique, artist-designed labels on their bottles, initiated in 1945. The portfolio of artists contributing to these labels includes masters like Salvador Dali, Picasso, and Andy Warhol, among others.
Tucked away in the upper reaches of the Pauillac appellation within the Médoc region, Chateau Mouton Rothschild stands out with its storied winemaking and special vineyard spots. Stretching across 83 hectares, their vineyard is a beautiful snapshot of Bordeaux's earthy charm, boasting a mix of gravel, sand, clay, and limestone underfoot. And with a generous kiss of southern sun, it's just the right spot for their vines to thrive.
Mouton Rothschild's vineyard is planted with 81% Cabernet Sauvignon, 15% Merlot, 3% Cabernet Franc, and 1% Petit Verdot. This proportion varies occasionally due to replanting. For instance, Petit Verdot was not included in the blend from 2004 until 2015, and Cabernet Franc was excluded between 2006 and 2010. This flexible blend contributes to the unique character and style of their wine.

The vine density stands at 10,000 vines per hectare, a testament to their commitment to quality over quantity. The vineyard is located on the Mouton Plateau, and the vines enjoy an elevation of almost 29 meters above sea level, contributing to excellent natural drainage. In fact, Mouton Rothschild enjoys some of the highest elevations in Pauillac.
Their vineyard practices are labor-intensive but yield significant benefits. Specific vine managers supervise designated parcels year after year, ensuring an intimate understanding of each vine's unique characteristics. Techniques such as green harvesting and hand picking enhance the quality of grapes, with a focus on berry-by-berry selection prior to destemming.
When it comes to winemaking, Chateau Mouton Rothschild showcases a remarkable fusion of tradition and innovation. The wine is vinified in 64 large, temperature-controlled wooden vats, and malolactic fermentation takes place in tanks. The produced wine ages in 100% new French oak barrels for 19 to 22 months, adding complexity and depth to the final product.
Their innovation is further evident in constructing their state-of-the-art vinification cellar, completed in 2013. A unique feature of this cellar is the thick glass windows on the large oak fermentation vats. These allow winemakers an inside view of each vat during fermentation, closely monitoring the extraction and interaction of skins and juice.
Chateau Mouton Rothschild is also known for its second wine, Le Petit Mouton de Mouton Rothschild, introduced in 1993. Despite being a second label, this wine reflects a meticulous winemaking process similar to their Grand Vin.
At its heart, Chateau Mouton Rothschild is the perfect blend of rich land, heartfelt vineyard care, and cutting-edge winemaking techniques. This dedication shines through in their exquisite wines, standing as proof of their unwavering commitment to excellence. They've truly helped mold what Bordeaux wine is all about today.