2005 Chateau Pichon Longueville Comtesse de Lalande
#171572992
Add to Favorites
Ridiculously low 2-day shipping. Add to cart to calculate cost.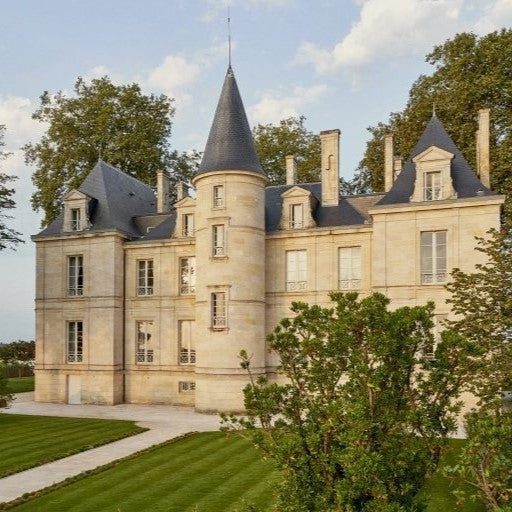 Nestled in the heart of the esteemed Pauillac region, Château Pichon Longueville Comtesse de Lalande is more than just a wine producer; it's a testament to the region's rich heritage. With its picturesque spot near the Gironde Estuary, this vast estate stretches over 102 hectares in Pauillac's southern charm. Home to over 100 unique vineyard plots, its heart beats strongest for the Médoc's pride - the Cabernet Sauvignon. Of course, they also embrace other Bordeaux favorites like Merlot, Cabernet Franc, and Petit Verdot.
The terroir of Pichon Comtesse is characterized by the remarkable soils of the Médoc, consisting of gravel rises on clay subsoil. These light, well-drained soils, shaped by the Quaternary period's slow drop in water levels, provide optimal conditions for the vines to express the outstanding quality of the terroir. The microclimate, influenced by the proximity to the estuary, further protects and enhances the vineyards.

At Pichon Comtesse, making wine is a labor of love and careful hands-on attention, both in the vineyards and in the cellars. Since 2010, they've passionately adopted biodynamic methods, putting the planet and its diverse life first. With a nod of recognition, they've achieved the top-tier environmental certification (HVE3). And that's not all - they've gone all out and turned to organic farming for their whole vineyard.
The wines of Pichon Comtesse reflect the excellence of the Pauillac terroir. Cabernet Sauvignon, expressing its character on the gravel rises at the top of slopes, produces full-bodied red wines with deep color, fine silky tannins, and delicate complexity. Merlot, grown on sandy-gravel soils with clay subsoils, contributes to elegant, well-balanced, full-bodied wines with age-worthy aromatic complexity. Cabernet Franc adds aromatic finesse with fresh, floral notes, thriving on soils with higher clay content. Petit Verdot, cultivated on sandy-gravel soils, imparts deeply colored wines with complex spicy and floral aromas underpinned by concentrated tannins.

Château Pichon Longueville Comtesse de Lalande isn't just known for its wines – it's celebrated for them. Imagine sipping a wine with a silky touch, bursting with ripe fruit flavors, and carrying the heady aromas of earth, tobacco, and cassis. It's a sensory journey like no other. What makes it even more special? The estate's deep respect for the land, their embrace of biodynamic farming, and an unwavering dedication to the art of winemaking. Truly, Château Pichon Comtesse de Lalande is a shining beacon of Bordeaux wine magic in Pauillac.