2010 Chateau Rayas Chateauneuf-du-Pape Pignan Reserve
#167113188
Add to Favorites
Reviews 90-93 points Wine Advocate "The color is a medium translucent ruby and the nose exhibits delicious notes of garrigue, lavender, sweet kirsch, strawberries and loamy soil. (RP)" 94 points Vinous "Bright ruby-red. Intensely perfumed red fruit and floral aromas are complicated by notes of Asian spices and minerals. Extremely fresh on the palate, offering nervy redcurrant and raspberry flavors and a strong spicy underpinning. A zesty note of blood orange comes up with air and adds a tangy edge to the long, precise, floral-accented finish. (JR)"
Ridiculously low 2-day shipping. Add to cart to calculate cost.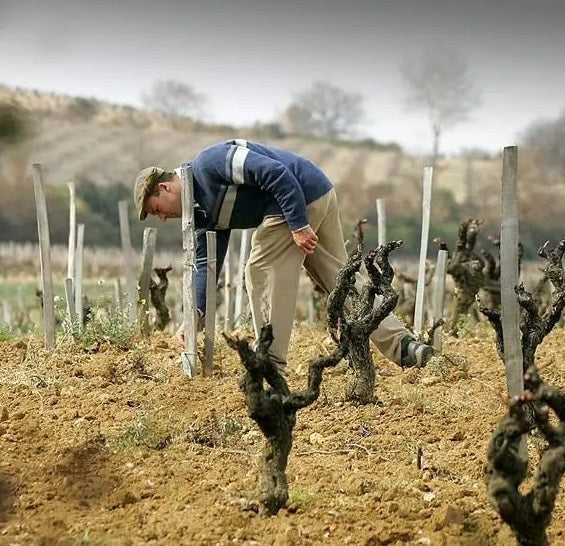 A renowned name in Châteauneuf-du-Pape, Château Rayas breaks away from the norm with its exclusive sandy soil, as opposed to the galets roulés characteristic of the appellation. At the helm is Emmanuel Reynaud, grandson of the estate's founder, who meticulously manages the distinguished single vineyards — Le Couchant, Le Levant, and Le Coeur. Advocating organic practices, he predominantly cultivates Grenache, a homage to his conviction in the grape's potential despite the appellation permitting up to 13 different varietals.

The vineyards, nestled amidst pine trees, enjoy a distinctive microclimate. They are sheltered from the bracing mistral winds, resulting in a slower ripening process. Once harvested, Reynaud employs an extended fermentation process with the grapes still on their stems. The wines are then racked once into enamel cuves, aged in neutral oak casks and foudres, and ultimately bottled two years post-harvest, unfiltered and unfined, thus preserving their aromatic complexity.

Reynaud also operates Château des Tours, a family estate in Sarrians under a Côte du Rhône appellation, along with its secondary label, Domaine des Tours, a Vin de Pays de Vaucluse. These offer more accessible organic Grenache and Syrah bottlings.

Each varietal in Rayas' 13-hectare vineyard, uniquely north-facing and sans the quintessential round pebbles, undergoes separate fermentation in oak casks. Assemblage then occurs in enamel-lined tanks pre-bottling. This methodological winemaking, the estate's unusual terroir, and its secluded location near Courthézon contribute to the unique, savory, and complex signature of all Rayas wines, making them some of the most coveted in the appellation.

Château Rayas owns 23 hectares of land, 12 of which are vineyards. Apart from the exclusive sandy soils, their unique microclimate, brought about by surrounding pine and oak trees, and their northern exposure make Rayas the coolest terroir in Châteauneuf du Pape. This allows for the harvest of optimally ripe grapes while maintaining low alcohol levels, intense purity of fruit, and an elegant, silky style that truly sets Rayas apart.