2012 Azienda Agricola Valentini Montepulciano d'Abruzzo
#127702159
Add to Favorites
Reviews 94 points Wine Advocate "Slightly held back or restrained on first nose, the Valentini 2012 Montepulciano d'Abruzzo opens slowly and contemplatively to sensations of dark fruit, smoke, tobacco and cured meat. Despite the rather heavy and sun-drenched nature of that first wave of aromas, it's impossible to miss the enormous intensity and textural richness packed tightly underneath. That full-bodied power is a celebrated signature of this wine and is a consistent feature of past editions. Give the glass a few robust swirls and a second act is soon to follow. Those heavier dark fruit aromas magically lift to reveal an enormous color palette of camphor ash, saffron and wild licorice root. (ML)" 94 points Vinous "Deep ruby. Initially reticent aromas open slowly with aeration and a hint at dark red cherry, blueberry, underbrush, plus a perfumed violet topnote. Bright, juicy and suave, with a seamless quality to the tannins that provide backbone to the ripe blue and black fruit and herbal flavors. Finishes long and very pure, with a charming, easy to drink quality, though this will repay cellaring. (ID)"
Ridiculously low 2-day shipping. Add to cart to calculate cost.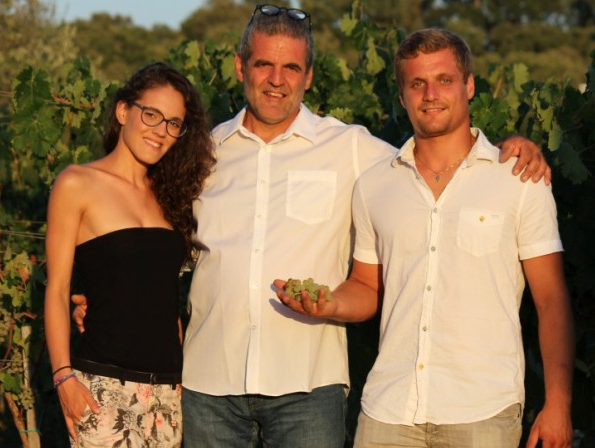 Azienda Agricola Valentini, a prominent winemaking entity located in the heart of Abruzzo, is revered for its distinct, sought-after wines. The winery boasts a rich tradition spanning several generations and maintains a reputation for their restricted distribution and closely guarded winemaking techniques, producing a line of wines that are nothing short of a vinous spectacle.

Their portfolio includes the exceptional Trebbiano d'Abruzzo, a varietal emblematic of the region and cultivated using biodynamic farming practices. It exhibits a sophisticated profile, defined by layers of complex aromas and flavors, enhanced by its remarkable aging potential. This wine is crafted using traditional vinification methods involving spontaneous fermentation in large, aged Slavonian oak barrels.

The winery's Montepulciano d'Abruzzo is a rich, full-bodied red venerated for its harmonious blend of red and black fruit notes laced with nuances of tobacco and mineral undertones. It benefits from a maceration period that lasts up to 25 days and an extended aging process in large wooden vats, contributing to its depth and complexity.

A truly unique offering is their Cerasuolo Rosato, an enticing synthesis of oceanic salinity and concentrated fruit, which results in a multi-dimensional texture. This rosé is a product of the Montepulciano grape, featuring a brief skin-contact period during fermentation to achieve its distinctive rose hue and robust profile.

While the Valentini estate stretches over 170 acres, a rigorous grape selection process is employed, ensuring only the top 5% of the yield is utilized for winemaking. This is a testament to the winery's commitment to quality over quantity. The winemaking legacy commenced with Edoardo Valentini, a pioneering figure who embraced avant-garde viticultural methods from 1956 to 2006. Today, the baton has passed to his son, Francesco Paolo Valentini, his wife, Elèna, and his son, Gabriele, who maintain the standard of excellence in their Abruzzese wines with unparalleled commitment.