2012 Giovanni Canonica Barolo Paiagallo
#171202302
Add to Favorites
Ridiculously low 2-day shipping. Add to cart to calculate cost.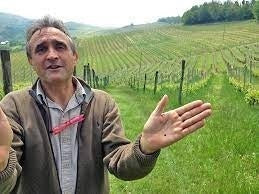 Giovanni Canonica is a winemaker who has achieved legendary status in Barolo, thanks to his exceptional and unique wines that are rooted in traditional, hands-off winemaking techniques. His wines stand out from the norm in Piedmont due to their aromatic profile, ultra-pure fruit, and supple tannins. Canonica's vineyard covers less than 2 hectares, making his wines rare and much sought after. He produces two cuvées, including the Paiagallo single vineyard Barolo, and the Grinzane Cavour, a mysterious and elusive wine.

Canonica's Paiagallo vineyard is located above the town of Barolo, at an elevation of 400 meters, in the western commune of the Barolo region. This vineyard covers less than a hectare and consists of Nebbiolo vines that were planted in the 1940s. The grapes are harvested by hand, and the wine is fermented and aged in large, old oak barrels for up to four years. The resulting wine is elegant, with a vibrant fruitiness and silky tannins.

Canonica's Grinzane Cavour vineyard is another single vineyard Barolo, and is situated in the Grinzane Cavour commune, on the eastern side of the Barolo region. This vineyard is also planted with Nebbiolo, and is located at a slightly lower elevation than Paiagallo. The resulting wine is more robust and powerful, with a darker fruit profile and firmer tannins. Only a few hundred bottles of this wine are produced each year, making it a highly sought-after collector's item.