2012 Vilmart & Cie Champagne Premier Cru Coeur de Cuvee
#157247195
Add to Favorites
Reviews 96 points Wine Advocate "Unwinding in the glass with notes of pear, fresh bread, elderflower, blanched almonds and citrus oil, it's full-bodied, deep and concentrated, with huge depth at the core and an incisive spine of acidity. (WK)" 95 points Vinous "Orchard fruit, white flowers, mint, graphite, white pepper and crushed rocks abound. (AG)"
Ridiculously low 2-day shipping. Add to cart to calculate cost.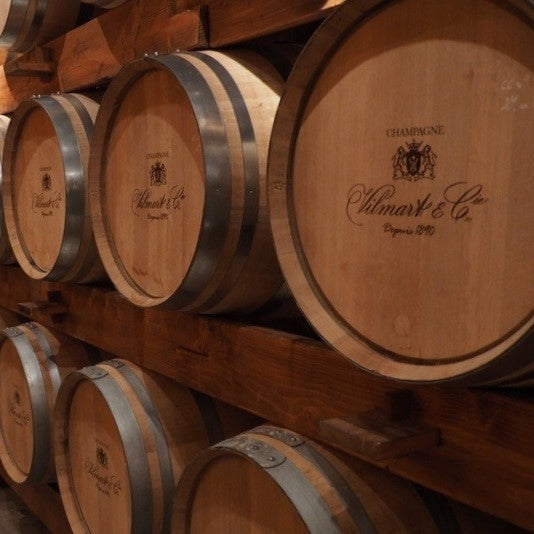 Vilmart & Cie, located in the prestigious Montagne de Reims region of Champagne, is a renowned winery with a rich history and a commitment to producing exceptional wines. Under the leadership of fifth-generation family member Laurent Champs, the estate has gained recognition for its sustainable farming practices and its premium range of wines.
With a total vineyard area of 11 hectares, Vilmart cultivates premier cru sites in Rilly-la-Montagne and Villers-Allerand. The vineyards are divided into 12 plots, allowing for precise and timely work. This close proximity to the winery ensures that the grapes can be attended to with great care.
While Pinot Noir typically dominates the Montagne de Reims region, Vilmart has a unique vineyard profile with 60% Chardonnay and 40% Pinot Noir. This unusual composition results in wines that exhibit finesse, elegance, and higher acidity. The Chardonnay grapes, grown on south or southeast-facing vineyards, offer pure and elegant citrus notes with a fuller body due to their location in the Montagne de Reims.
Vilmart's winemaking process is meticulous and detail-oriented. All the wines are fermented and aged in oak casks, ranging from large oak vats to smaller Burgundy barrels. Non-vintage wines undergo a non-malolactic fermentation in large oak vats, while vintage wines are vinified in small Burgundy barrels. This approach, combined with blocking malolactic fermentation, results in wines that strike a perfect balance between richness and crisp acidity.
One of Vilmart's most notable wines is the
Cœur de Cuvée
, made exclusively from the heart of the press and sourced from 80% Chardonnay and 20% Pinot Noir vines over 50 years old in the Les Blanches Voies vineyard. This top cuvée, along with other prestigious offerings like Grand Cellier and
Emotion Brut Rosé
, showcases the winery's commitment to crafting exceptional wines with long-aging potential.
Vilmart & Cie takes pride in its sustainable farming practices and is certified for Viticulture Durable, Ampélos, and Haute Valeur Environnementale (HVE). They plow the soil, avoid using insecticides and chemical fertilizers, and adapt their viticultural practices according to the weather conditions each year.
With their dedication to quality and meticulous winemaking techniques, Vilmart & Cie has established itself as one of the finest champagne growers and producers in the Montagne de Reims region. The wines, with their unique characteristics, offer a harmonious balance of complexity, freshness, and finesse that sets them apart and makes them worthy of collecting and enjoying.