2013 Castello dei Rampolla d'Alceo
#158058171
Add to Favorites
Reviews 94 points Wine Advocate "Made with Cabernet Sauvignon and Petit Verdot, the 2013 d'Alceo shows an inky dark appearance with impenetrable color saturation. This is another gorgeous wine from an estate I admire deeply. The fruit intensity peels off this wine with elegance, power and intensity. With similar momentum, the wine glides clear over the palate with silky and long intensity. There are some pungent or volatile notes (similar to what you find in the other wines), but they are a plus, not a minus. They give support and intensity to the wine's persuasive aromatic performance. (ML)" 100 points Vinous "Readers should do whatever they can to get their hands on a few bottles of the 2013 d'Alceo. Seamless and voluptuous in the glass, it is an epic wine that embodies all the qualities that make these terraced vineyards in Panzano so special. Blackberry jam, creme de cassis, plum, licorice and spice meld together in the glass, but it is the wine's textural intensity that elevates it into the realm of the profound. The 2013 has been nothing short of moving on the two occasions I tasted it recently. (AG)"
Ridiculously low 2-day shipping. Add to cart to calculate cost.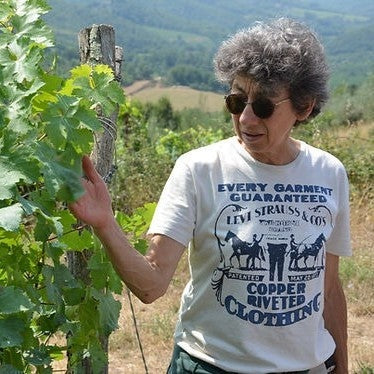 Sitting majestically atop the Chianti Classico's Conca d'Oro valley, Castello dei Rampolla is a stalwart in the Super Tuscan category, its roots firmly grounded in a history that traces back to the 13th century. This prestigious estate has been under the stewardship of the Di Napoli family since 1739 and currently produces between 8,000 to 25,000 bottles annually, depending on the vintage.
Inspired by the triumph of
Sassicaia
, Alceo Di Napoli pioneered the planting of Cabernet Sauvignon and Sangiovese in 1965, marking the first steps towards creating their acclaimed wines. Indeed, these early grapes contributed to the initial vintages of Tignanello, as they were sold, to
Piero Antinori
. Castello dei Rampolla released their first vintage in 1980 under the watchful eye of oenologist Giacomo Tachis, whose influence helped shape the bold, nuanced style and aging prowess that Castello dei Rampolla wines are now revered for.
Presently helmed by Alceo's children, Luca and Maurizia, the winery continues its minimalistic winemaking approach while embracing biodynamic practices since 1994. The incorporation of gentler oak usage, Luca credits, has significantly enhanced the quality of their wines.
The estate's commitment to biodynamic practices is evident in its hands-on approach, eschewing heavy machinery for manual labor and a focus on natural treatments, showcasing a profound respect for its historic land. Yet, despite their dedication, they forgo certification, their work speaking for itself.
Nestled within the radiant golden basin and neighbor to the renowned
Fontodi
, the estate is celebrated for its Bordeaux-inspired blends, and it's worth noting their flagship wines, the Sammarco and d'Alceo.
Sammarco
, an elegant blend of Cabernet Sauvignon, Sangiovese, and Merlot, exhibits a potent concentration of tannins and a distinct aroma of ripe fruit, while
d'Alceo
, a testament to the personality of the vineyard, is an intense and warm blend, melding ripe red fruits with delicate notes of cigar and tobacco. The minimalistic vinification and aging process, which includes a period in concrete tanks, tonneaux, and oak barrels, followed by bottle aging, further underlines the meticulous nature of their winemaking.
Collectors and drinkers alike prize these unique wines, their pedigree, complexity, and the fascinating history of Castello dei Rampolla, ensuring they remain enduring symbols of Tuscan wine excellence.