2014 Domaine du Comte Liger-Belair Nuits St. Georges 1er Cru Clos des Grandes Vignes
#166286466
Add to Favorites
Reviews 90-92 points Wine Advocate "The 2014 Nuits Saint Georges 1er Cru Clos des Grandes Vignes has a fragrant, lightly honeyed nose that is nicely defined, perhaps a little richer than other vintages. The palate is medium-bodied with that light honeyed note coming through, the 22% new oak nealty integrated towards the refined finish. Very fine. (NM)" 91 points Vinous "Dark red-ruby. Musky, very ripe, soil-driven scents of black raspberry, black cherry and menthol. Silky and fine-grained yet backward today owing to its medicinal reserve. This wine is hiding its sweetness in the early going but it displays lovely phenolic ripeness, not to mention good energy. (ST)" 17.5 points Jancis Robinson "Mid purplish crimson. Quite intense nose. Some spice. Really fruity and edgy. Solid ? big delivery. Quite a bit of alcohol. Muscular. Long and neat. (JR)" 91 points Burghound "A restrained nose displays pretty and cool red currant, earth and soft spice nuances. There is a lovely sense of underlying tension to the supple, round and fleshy medium-bodied flavors that possess a relatively refined mouth feel thanks to the fine-grained tannins. I like the subtle complexity on the delicious, balanced and attractively persistent if tautly muscular finish. (AM)" 93 points John Gilman "The Clos des Grandes Vignes Monopole is a fine new addition to the lineup here, and the 2014 is really a lovely and very classy young bottle of Nuits St. Georges. The bouquet offers up a complex melange of black raspberries, sweet dark berries, gamebirds, lovely spice tones, dark soil and cedary wood. On the palate the wine is deep, full-bodied and very pure on the attack, with lovely transparency, a sappy core of black fruit, fine-grained tannins and a long, focused and tangy finish. (JG)"
Ridiculously low 2-day shipping. Add to cart to calculate cost.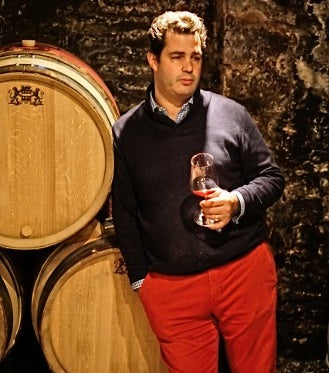 Domaine du Comte Liger-Belair, nestled in the heart of Vosne-Romanee, is a testament to winemaking excellence and resilience. This winemaking legacy began with Louis Liger-Belair, a general from Napoleon's army, who acquired the Château de Vosne-Romanée Estate in 1815. This once vast estate covered sixty hectares of some of the most prestigious vineyards in France, including the celebrated grand cru monopole, La Romanée. An unfortunate inheritance issue in 1933 led to the divestment of most of the family's holdings, leaving only a fraction of the former glory.

In the year 2000, the narrative of the domaine changed dramatically when Louis-Michel Liger-Belair, an agricultural engineer and oenologist, seized the reins of the family Domaine. Armed with dedication and an innovative spirit, he transformed the winemaking process, embracing biodynamic farming methods across the Domaine's near nine hectares. His holistic approach to farming includes the use of a horse-drawn plow and careful handling of the vineyard's fruit to respect grape integrity.

Among the more technical aspects of their winemaking, the Domaine is known for a distinct blend of free-run and pressed juices, allowing the lees to settle to avoid racking. They employ three different barrel types sourced from three different forests, offering unique characteristics to the wine. Bottling is done by gravity without the use of fining or filtration, a testament to the purity of the wine production process.

Today, the Domaine du Comte Liger-Belair produces some of the world's most esteemed wines, their offerings vibrating with a "seriousness of intent" (Jancis Robinson). The wines' unique quality stems not just from the dedication and expertise of Louis-Michel, but also from the profound lineage of the Liger-Belair family that has been intertwined with the vineyards and wines of Burgundy for over two centuries. This profound history, paired with the Domaine's future-facing approach to winemaking, ensures their place as a cherished producer in the heart of Burgundy.