2015 Domaine de la Romanee-Conti Romanee St. Vivant
#166286458
Add to Favorites
Reviews 95 points Wine Advocate "The Domaine de la Romanee-Conti 2015 Romanee-St-Vivant Grand Cru was showing superbly from bottle, bursting from the glass with a dramatic and expressive bouquet of rose petal, violet, raspberry and spicy red cherry that has already digested its framing of new oak. On the palate, the wine is full-bodied, expansive and supple, its frame of fine-grained tannins cloaked in a deep core of vibrant fruit and only asserting themselves on the long, penetrating finish. (WK)" 95 points Vinous "The 2015 Romanee-Saint-Vivant Grand Cru was picked at 26.26hl/ha on 9, 10 and 11 September. It has a much more delicate bouquet than the Richebourg at the moment, one that is playing its cards close to its chest. Light pressed flower aromas emerge entwined with redcurrant and cranberry. It is not a fragile bouquet however there is a sense of airiness about this wine. The palate is actually more open than the aromatics. It is some verisimilitude to Richebourg in terms of structure that only becomes apparent towards the second half. There is a spiciness embroidered into this Romanee-Saint-Vivant, a hidden depth whereas the Richebourg is more assertive and bold. Discreet for the vintage, it will repay several years in bottle. (NM)" 18 points Jancis Robinson "All the redcurrant and raspberry of Pinot Noir, with the finest, most tender tannic feel possible. Long and pencil-scented on the finish, with full body and a lovely elegant lift to the structure that is remarkably gentle yet full of flavour intensity. One of the more forceful styles of DRC, fitting the vintage profile well. (RH)" 96 points Burghound "This is more restrained still though aggressive swirling eventually coaxes the gorgeously broad-ranging nose to reveal an even more floral and spicier melange of red and dark currant, Asian-style tea, anise, clove, cinnamon and sandalwood scents. The equally pure, naturally sweet, precise and beautifully detailed medium-bodied flavors maintain their focus from the mid-palate to the dazzlingly long and palate staining linear finish that just goes on and on. However, as silky as the palate impression is, there is plenty of supporting structure and this too is going to require a long snooze in a cold cellar before it will be completely ready for prime time. Textbook RSV. (AM)"
Ridiculously low 2-day shipping. Add to cart to calculate cost.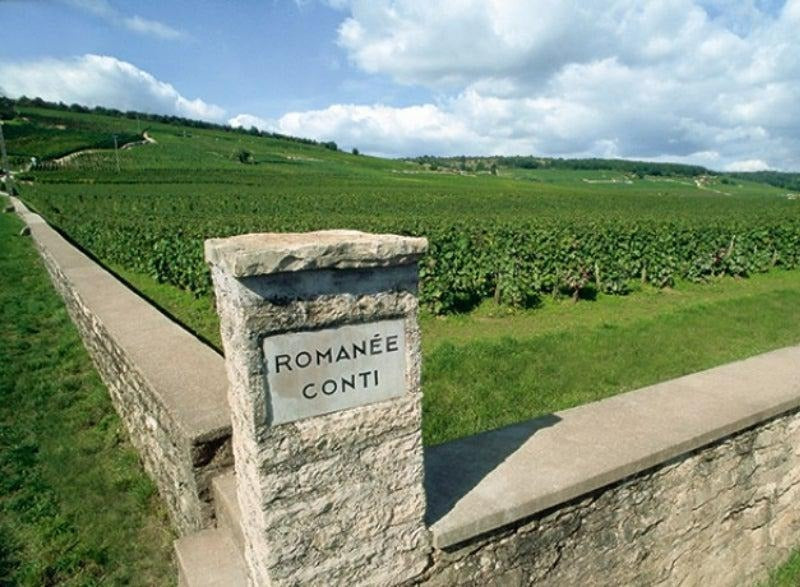 Sitting at the zenith of the global wine realm, Domaine de la Romanée-Conti, universally known as "DRC," is a legendary Burgundy wine estate located in Vosne-Romanée. Co-directed by wine virtuoso Aubert de Villaine, DRC stands out with its 28 hectares of grand cru vineyards producing extraordinary and incredibly age-worthy cuvees.

The estate is an undisputed leader in biodynamic farming, enhancing the vineyards' ecosystem, elevating the quality benchmarks of these prestigious appellations, and promoting a holistic approach to viticulture. Their stringent practices encompass regular plowing, striving for low yields, and implementing séléction massale, a propagation method that ensures the vineyard's genetic diversity, leading to wines that surprise and impress with each vintage.

DRC's reverence for tradition extends to their cellars, where winemaking processes are meticulously carried out. Native yeast fermentations, gentle extractions, and aging in new oak barrels reveal the nuanced complexity of their wines. The result is an array of cerebral, expressive, and rare wines that are among the world's most sought-after.

The grandeur of DRC stems from its seven grand cru vineyards - La Romanée-Conti, La Tâche, Richebourg, Romanée-St.-Vivant, Grands Échézeaux, Echézeaux, and Montrachet in Chassagne. La Romanée-Conti and La Tâche are monopoles - vineyards entirely owned by the Domaine - undeniably among Burgundy's finest. These vineyards give rise to the most seductive, sublime, and rare wines sought after by connoisseurs worldwide.

Uniquely, the vineyards of DRC are recognized as UNESCO world heritage sites, emphasizing their extraordinary terroir and wine production. The limited production, coupled with the prestige and historicity of DRC, contributes to their wines' high demand and exceptional value at auctions.

In essence, Domaine de la Romanée-Conti is more than a winery; it's an embodiment of Burgundy's age-old traditions, unflinching dedication to quality, and the profound connection between land, people, and wine.