2015 Gaja Langhe Chardonnay Gaia & Rey
#171202318
Add to Favorites
Ridiculously low 2-day shipping. Add to cart to calculate cost.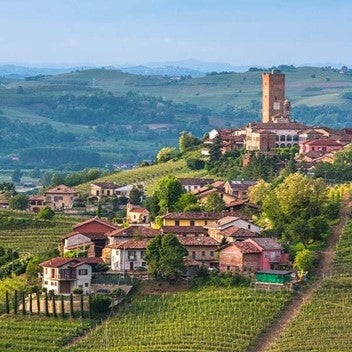 In the winemaking world, the Gaja estate in Italy's Piedmont region stands as a vanguard of tradition, quality, and innovation. This esteemed winery, spanning over five generations, has firmly etched its mark on the international wine scene, acting as a precursor for the renaissance of Italian wines.

Known for his pioneering spirit, Angelo Gaja revolutionized winemaking in Piedmont, introducing single-vineyard wines, integrating Bordeaux varietals, anusingof barriques. These bold moves were instrumental in leading Barbaresco to international fame and reinventing Italian wines on a broader scale.

Among the standout vineyards is Costa Russi, nestled below Sori Tildin within the Barbaresco village. Spanning four hectares, this vineyard is characterized by its limestone clay and marl soils. The vines here, some over 65 years old, do not endure direct sunlight throughout the day due to the vineyard's southwest orientation. The resultant wines are distinguished by their delicate expression and pronounced fruit character, making them the most gentle of the Gaja Barbarescos.

Sori Tildin, just over three hectares in size, boasts dense soils that lock in moisture, thereby contributing to the unique quality of the wines. The vineyard primarily faces south, absorbing sunlight that helps to create wines of impressive balance. Tildin's wines bear a historical imprint; the vineyard's name honors Angelo's grandmother Clotilde (affectionately called Tilden), who insisted on securing the best Barbaresco vineyards after World War II.

With its direct southern exposure and proximity to the Tanaro River valley, Sori San Lorenzo enjoys warm air currents, leading to early ripening and harvest. The clay and limestone-rich soils in this nearly 3-hectare vineyard nurture some of Gaja's oldest vines. Wines from Sori San Lorenzo tend to be more austere when young and possess an impressive structure. With high tannin concentration, these wines demand a longer aging period and promise remarkable longevity.

The Sperss vineyard in Serralunga d'Alba, a nostalgic addition to the Gaja portfolio in 1988, is a testament to the family's history with Barolo. Stretching roughly 12 hectares, this vineyard produces Barolo wines noted for their firm, tannic structure. The first vintage of Sperss was in 1989, marking a significant milestone for Gaja in their return to Barolo production.

These vineyards collectively capture the essence of Gaja's commitment to qualityr innovation-driven approach, and the authentic expression of Piedmont's terroir, making GAJA a pinnacle of Italian winemaking.