2016 Dard et Ribo Hermitage
#163439723
Add to Favorites
Ridiculously low 2-day shipping. Add to cart to calculate cost.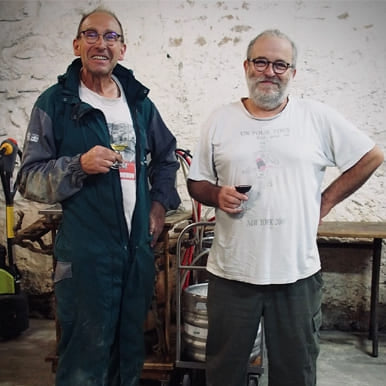 Dard et Ribo, hailing from the Northern Rhone Valley, stands as a testament to over 40 years of exceptional winemaking. The partnership between Rene-Jean Dard and Francois Ribo gave birth to a winery celebrated for its distinctive, site-specific Syrahs, combining elegance with freshness. Notably known for their dangerously gulp-able style, these wines strike a beautiful balance between chewy, juicy freshness and the potential for graceful aging.

Starting their journey in the early 80s with a modest single hectare, today, their vineyards stretch over nine hectares across the illustrious terrains of Crozes-Hermitage, St. Joseph, and two precious parcels of Hermitage (Varogne and La Croix).  While they pay homage to the Syrah, a surprising third of their production shines a spotlight on white wines.

With a steadfast commitment to sustainability and environmental preservation, Dard et Ribo employ traditional winemaking methods; techniques passed down from generations. Rene-Jean's lessons from his father shaped their approach, emphasizing minimal intervention, both in the vineyard and the winery. Their avant-garde method of forgoing sulfur, even before natural wine became a trend, underscores their dedication to authenticity. Grapes undergo a gentle maceration, moving to demi-muids for natural fermentations, ensuring a long elevage to maintain purity and stability in their wines.

The result? Wines that genuinely capture the spirit and essence of the Rhône Valley. For the connoisseurs and enthusiasts alike, each bottle promises a unique experience – a delightful dance of silky, bright fruit with spicy, savory undertones. Whether it's the ever-popular Croze Hermitage "Les Baties" or any other wine from their repertoire, every sip is unmistakably Dard et Ribo, offering an ultra-drinkable experience that leaves one craving more. Join us in exploring these thrilling wines of pure pleasure, perfect for the present and promising for the future.