2016 Jean Bourdy Chardonnay Cotes du Jura
#146369059
Add to Favorites
Ridiculously low 2-day shipping. Add to cart to calculate cost.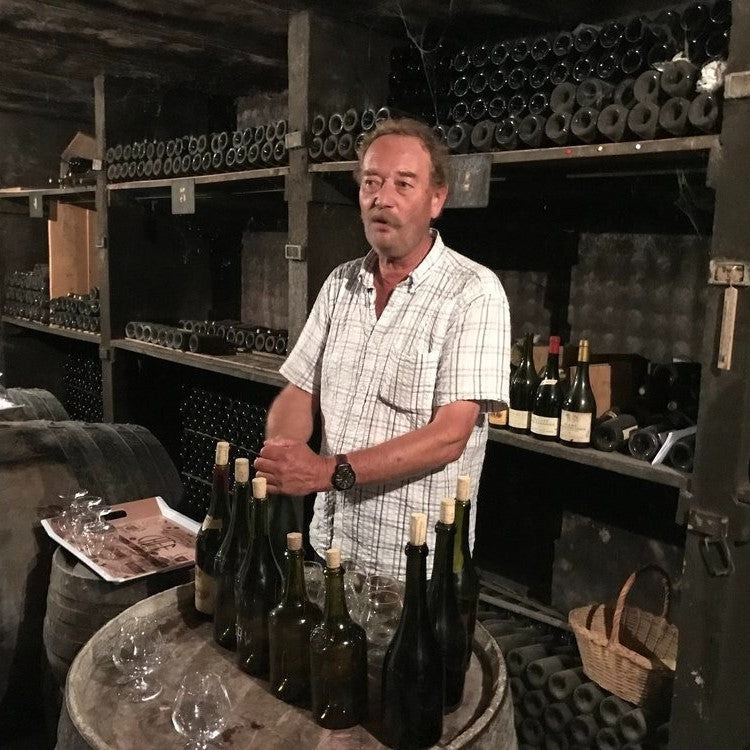 Renowned for centuries of tradition, Caves Jean Bourdy rests in the heart of the Jura region, passionately stewarded by the 15th-generation winemakers Jean-Phillipe and Jean-François Bourdy. The Bourdy brothers manage a 10-hectare spread of vines, including a coveted half-hectare in the Chateau Chalon AOC, nurturing vineyards aged between 60-80 years.

Their unique approach to winemaking includes old barrels, some as ancient as 80 years, for fermentation and aging, resulting in distinct character in each cuvée. Guided by the rhythm of the local, continental climate, the brothers allow their wines to mature patiently, typically spending 4-5 years in barrels before release. This patient process has resulted in a treasure trove of a wine library with reds dating back to 1926 and whites to 1911.

The Bourdys are committed custodians of the land, achieving biodynamic certification in 2006. They utilize dynamized cow manure as a natural fertilizer and carefully manage soil structure with minimal use of small tractors. From native yeasts and cover crops to traditional blends of Poulsard, Trousseau, and Pinot Noir for the reds and Chardonnay or Savagnin for the whites, the wines are truly a testament to their terroir.

Their Cote Du Jura Rouge, a blend of Poulsard, Trousseau, and Pinot Noir, is a testament to their delicate winemaking process. It boasts beautiful floral and red-fruit tones and speaks to the careful, balanced blending process. Meanwhile, their Cote Du Jura Blanc, made from 100% Chardonnay, offers a bright and crisp sensation with a surprisingly fresh and acidic profile. Their Vin Jaune, aged for seven years in barrel under a veil of yeast called flor, is a remarkable testament to the region's winemaking prowess, offering a bright and nutty experience with extraordinary freshness and acidity.

The brothers' commitment to timeless, traditional winemaking processes, biodynamic practices, and thoughtful vineyard management yields wines that brilliantly express the identity of the Jura region. These are not wines of immediate gratification but those that shine with age; each sip is a testament to centuries of savoir-faire. The Bourdys' wines are a unique embodiment of place and time, offering an unparalleled experience for the discerning palate.