2017 Domaine G. Roumier / Christophe Roumier Musigny
#161845792
Add to Favorites
Reviews 94-96 points Wine Advocate "There are one and a half barrels of the 2017 Musigny Grand Cru, a superb but reserved wine that unwinds to reveal aromas of rose petal, cherries, raspberries, sweet spices, orange rind and espresso roast. On the palate, it's full-bodied, ample and complete, with a layered, multidimensional core, lively acids and a long, resonant finish. Like the Bonnes-Mares, this looks to be one of the wines of the vintage, though it's even less outgoing at this early stage. (WK)" 96 points Burghound "A breathtakingly spicy nose is comprised by aromas of black cherry, raspberry, exotic tea and a wide array of floral elements. The super-sleek, velvety and powerful mineral-driven flavors are imposingly-scaled flavors, which despite the opulent richness retain lovely delineation on the almost painfully intense and hugely long finish. The supporting tannins are the ripest in the range though they make it indisputably clear that this is destined for a very long life, indeed 20 to 25 years would not surprise me. One of the crown jewels of the 2017 vintage. (AM)"
Ridiculously low 2-day shipping. Add to cart to calculate cost.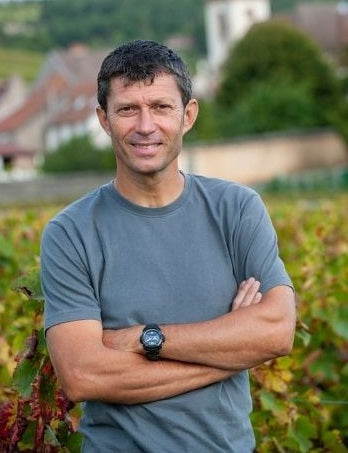 The eminent Christophe Roumier manages the prestigious Domaine George Roumier, a Burgundy powerhouse known for its premier and grand crus that garner the admiration of sommeliers and collectors alike. Established in 1924, the Domaine's superior fruit springs from Chambolle Musigny's stellar terroirs – Le Musigny, Les Amoureuses, and Bonnes Mares – and three distinguished parcels cultivated en métayage: Echezeaux, Ruchottes, and Charmes Chambertin. Despite Christophe's insistence on pruning rigorously to ensure low yields, the resultant wines are opulent, concentrated, and marked by a unique balance of power and restraint.

With an unswerving dedication to quality, Christophe personally sorts the harvest, mostly de-stemming the grapes based on vintage conditions and allowing them to macerate in oak cuves at low temperatures. The must, punched down twice daily, ferments on native yeasts in both stainless steel and concrete. The aging of wines is handled judiciously according to their crus, utilizing a modest 15% new oak for the village wines and reaching a maximum of 50% for the grandiose Bonnes Mares grand cru. These expert techniques result in wines that are enchanting, seductive, and notably age-worthy.

Currently, Domaine George Roumier spreads across 11.52 hectares in Chambolle-Musigny, Morey-Saint-Denis, and Corton-Charlemagne. Here, Christophe leverages his intelligence and winemaking prowess to produce wines that are not just consistently delicious but carry profound elegance - a testament to the ancient craft of winemaking.

Maintaining a minimal dependence on new wood, Christophe pursues and accomplishes remarkable precision in his wines. Thus, the limited production of globally renowned crus such as Bonnes-Mares, Chambolle-Musigny, Charlemagne Grand Cru, and Ruchottes-Chambertin, render these offerings as coveted collectibles. Domaine George Roumier, therefore, continues to stand as an undeniable icon of Côte de Nuits, showcasing an unrivaled blend of heritage, expertise, and an unwavering commitment to quality.