2017 Hiyu Aura
#154962686
Add to Favorites
Ridiculously low 2-day shipping. Add to cart to calculate cost.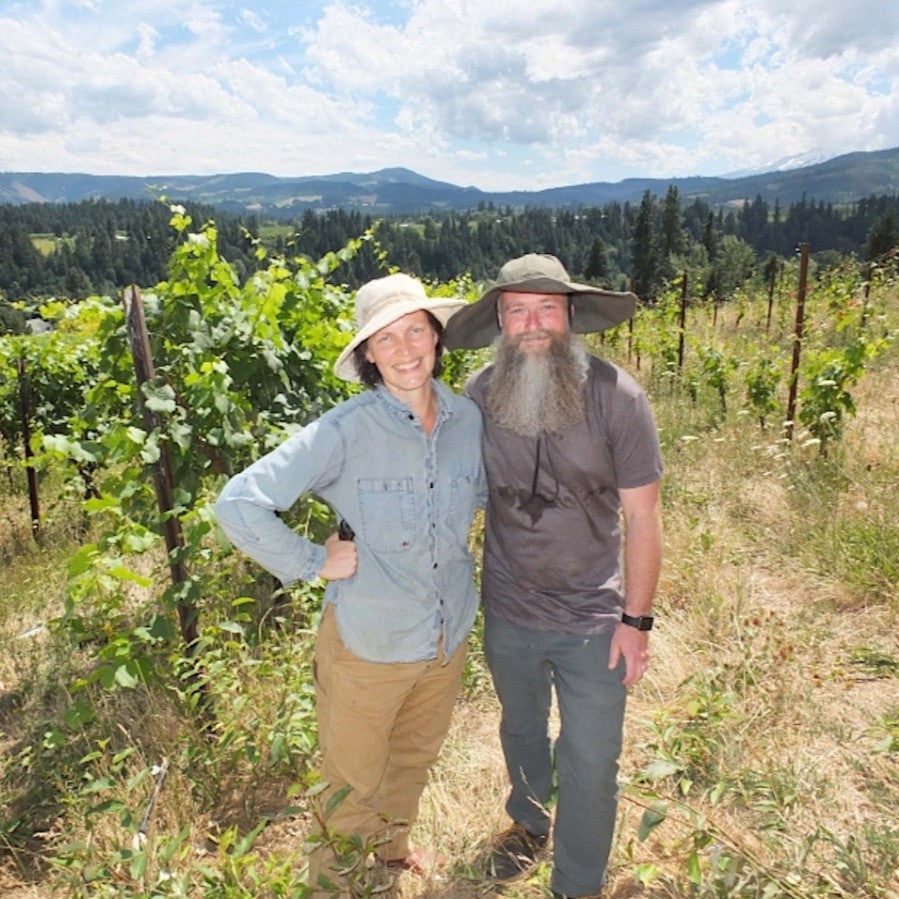 Tucked within the stunning landscape of North Oregon's Hood River Valley, Hiyu Wine Farm stretches across 22 estate-owned acres, with an additional 16.5 acres under long-term lease. Additional fruit is sourced from small, trusted growers. The farm, led by co-founders Nate Ready and China Tresemer, delivers not just extraordinary wines but a holistic, biodiverse experience that extends to cider production and agroforestry.

Practicing organics and regenerative agriculture, Hiyu prioritizes minimal interference with the land and its resources. Vineyard management incorporates limited pruning and dry-farming, while piglets, chickens, and other livestock assist with natural vegetation control. Indeed, Hiyu's farming methods surpass the standard requisites of organic or biodynamic vineyards, with 85% fewer sprays used and natural compounds combatting disease.

With vineyards draped in the rich, sandy loam on basalt, Hiyu's primary focus is on highly variegated field blends, including Pinot Noir. However, the estate's eclectic embrace of vine biodiversity has transformed it into a field blend wonderland, with close to 80 different varieties and numerous clones growing in harmony.

The team at Hiyu is committed to artisanal winemaking. Harvesting by hand into small baskets, they apply whole cluster macerations and traditional foot-treading. The grapes are then transferred to a basket press, followed by slow fermentation with indigenous yeasts only. Once fermentation concludes, the wines are aged in old, neutral oak barrels of varying sizes. Since the Winter '22 release, no sulfur has been added during bottling, which continues to be a hand-driven, gravity-fed process.

A typical day at Hiyu involves meticulous grape picking from morning till afternoon. They have developed a distinctive approach, refusing to use contract labor and instead investing time in tasting grapes to decide the optimal harvest time. The harvested grapes are handled gently, guided by three different paths based on their type, and ferment slowly inside their intact berries, thanks to Hiyu's whole cluster philosophy; however, some of them, named "Spring Ephemeral," are bottled after just a couple of months.

Noteworthy wines from Hiyu include the Arco Iris from the Columbia Gorge, a red wine featuring intoxicating ripeness despite its low sugars. Scented with the darkest sour cherries, it boasts an explosive acidity that combines notes of stones, meat, tannin, and mountain herbs. Hiyu also farms a leased 9.83-acre site called Scorched Earth Vineyard, located in Washington State's desert area, notable for its black basalt sand.

Overall, Hiyu's devotion to the land, its natural processes, and meticulous crafting of wines results in a unique portfolio that is truly representative of Oregon's diverse terroir. Each bottle offers a distinct narrative of the region's vintage, varietals, and farming ethos.