2017 Jean-Francois Ganevat Vin de France Les Fanfans s'amusent
#103411823
Add to Favorites
Ridiculously low 2-day shipping. Add to cart to calculate cost.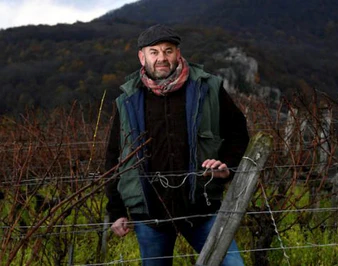 While the Jura region of France may be new to most collectors, this family-owned Domaine has been around since the 1600s. Nestled between Burgundy and Switzerland in the charming town of La Combe de Rotalier, Jean-Francois Ganevat (aka "Fanfan") is crafting 35-40 different wines each vintage from his 8.5 hectares. 
Of those 8.5 hectares, there are seventeen different grape varieties planted, all local of course, which are all farmed biodynamically. The white wines are fermented and matured in neutral oak or clay amphoras, and the reds are destemmed and undergo carbonic maceration before aging in neutral barrels. The end result is consistent in quality and purity, but each lot is distinctly different - and deliciously fun.
Fanfan has already won the hearts of many, including Luis Gutierrez of the Wine Advocate who proclaimed "he is the most accomplished French vigneron of whom most of my readers have never heard." Keep your eyes peeled for his Pinot Noir (Cuvee Julien/En Billat), one of his most highly acclaimed wines, which has been deemed the "la Romanée-Conti from the Jura" by the Wine Advocate.