2017 Lingua Franca Chardonnay AVNI
#125326893
Add to Favorites
Ridiculously low 2-day shipping. Add to cart to calculate cost.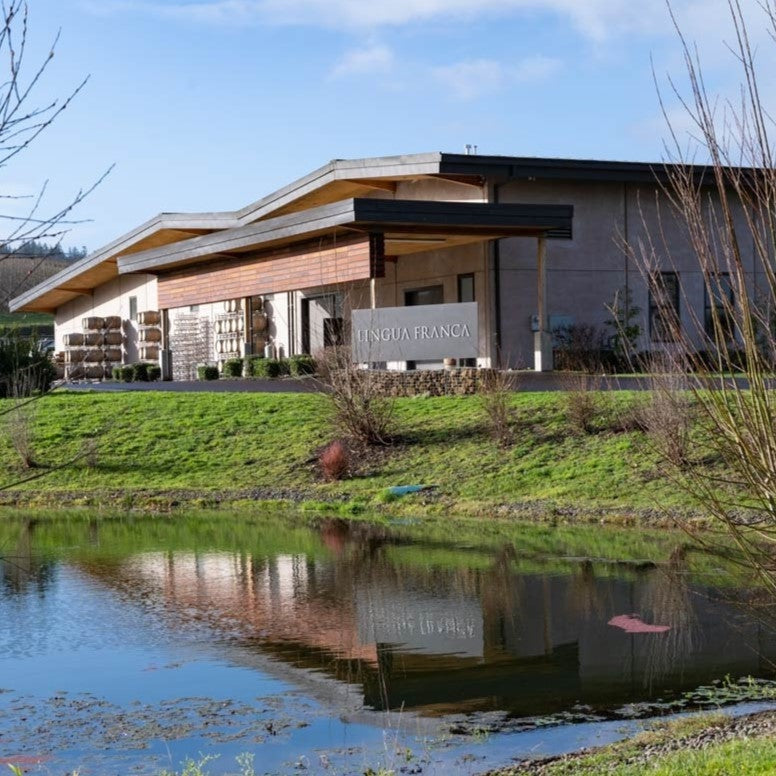 Established in the acclaimed Eola-Amity Hills of Oregon's Willamette Valley, Lingua Franca Vineyards are the outcome of a life's passion of its founder, Larry Stone. The crown jewel of this venture is the 66-acre Lingua Franca Estate vineyard, an illustrious east-facing property that sits at a 300-foot elevation on Lone Star Road. Recognizing the vineyard's potential to express a unique terroir, Stone meticulously planned the planting of twenty-three distinct blocks.

Under the stewardship of Vineyard Manager Brandon Hasart, Lingua Franca Estate adopted rigorous low-impact organic and biodynamic farming techniques, improved with the insights of Mimi Casteel. An environmentally conscious approach to farming, including no-till practices, promoting mycorrhizal activity, and encouraging the local wildlife, was aimed at creating an intricate ecosystem for thriving vine health and optimal fruit quality.

The initial plan was solely to sell fruit, but when Burgundian winemaking legend Dominique Lafon took interest in the vineyard, Stone, together with Lafon and David Honig, co-founded Lingua Franca in 2015. They invited Thomas Savre, a young winemaker who had honed his skills in Burgundy, to join their ranks. Their combined efforts and commitment to creating exceptional, terroir-driven wines led to the birth of the Lingua Franca range of wines.
Lingua Franca's winemaking approach is marked by precision and gentleness, aimed at preserving the innate character and quality of the fruit. Depending on the vintage, a certain percentage of whole clusters are used, particularly for Pinot Noir, enhancing the complexity of the wines. For their Chardonnays, the grapes are whole-berry pressed and allowed to settle in airtight tanks for 24 hours before spontaneous fermentation using wild yeast. The wine is then aged in 600-liter puncheons on lees for 11 months, further enhancing complexity. The élévage of new oak puncheons is finely tuned to impart structure and character without overpowering the fruit. The traditional Burgundian practice of pigéage (punching down) by foot is also applied at Lingua Franca. This careful, more tactile approach, believed to yield superior results, is indicative of the winery's commitment to the gentle handling of fruit.
The estate comprises various offerings from different vineyard blocks and additional sites. The Bunker Hill Chardonnay, from the acclaimed South Salem Hills vineyard, is an audience favorite. Lingua Franca also offers Sisters, an elite Chardonnay blend, and Mimi's Mind, a Pinot Noir entirely crafted from clone 667 from the nearby Hope Well Vineyard. This diversity in offerings reflects the team's exploration of unique micro terroirs and commitment to capturing the distinctive qualities of each site in the wines.

Stone's ambitious endeavor has brought to life a harmonious blend of exquisite winemaking, respect for the environment, and dedication to expressing the heart of the Eola-Amity Hills in every bottle of Lingua Franca.