2018 Bodegas y Vinedos Alion Ribera del Duero
#164341337
Add to Favorites
Reviews 95 points Wine Advocate "The truth is that the wine comes through as subtle, elegant and balanced, with very integrated oak and a nice texture. It's one of the finest vintages for Alion. (LG)"
Ridiculously low 2-day shipping. Add to cart to calculate cost.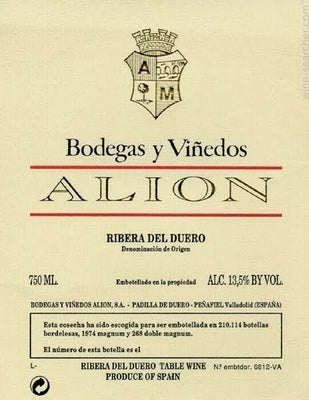 Bodegas Alion, situated in the renowned Ribera del Duero, was birthed in 1991 by the venerated Alvarez family, known for their
Vega Sicilia
estate legacy. Alion, although close in proximity to Vega Sicilia, just 15 kilometers away in Peñafiel, pursues a distinct vision, blending the modern vibrancy of Bordeaux winemaking with the intrinsic qualities of Ribera del Duero.
Headed by Javier Ausas, Vega Sicilia's esteemed winemaker, Alion's wines emerge from a state-of-the-art winery. The vinification commences with selectively hand-harvested Tempranillo grapes, followed by a rigorous sorting phase. Fermentations, both primary and malo-lactic, occur in replenished wooden vats, ensuring quality with every vintage. Depending on the year's distinct profile, the wines age for 14 to 20 months in new French oak barrels and are then bottle-matured for an additional 15 months prior to market release.
Alion's vineyards span 85 hectares, with 35 hectares encircling the modern winery in Peñafiel and an additional 50 hectares reserved within Vega Sicilia in Valbuena. The soils here are typical of Ribera del Duero: chalky limestone over moisture-retaining schist, crucial for the region's arid conditions.
What stands out about Alion is its duality: the wine's ability to be accessible upon release, yet evolve with grace for over two decades. The resulting wine is rich, bearing an intense dark berry profile, reminiscent of premium Bordeaux or Napa Cabernets. Both the legacy of
Vega Sicilia
and the modern prowess of Alion have cemented the Alvarez family's name in the history book of top Spanish winemaking.