2018 Domaine Bernard Moreau et Fils Chevalier-Montrachet
#164220532
Add to Favorites
Reviews 94-96 points Wine Advocate "Wafting from the glass with a lovely bouquet of citrus oil, orange blossom, white flowers and pastry cream, Moreau's 2018 Chevalier-Montrachet Grand Cru is full-bodied, satiny and layered, with a deep and multidimensional core, lively acids and a long, chalky finish. (WK)" 95-97 points Vinous "The 2018 Chevalier-Montrachet Grand Cru, which comprises three barrels this year, has an expressive bouquet of crushed stone mixed with Granny Smith apples and fleeting hints of white peach. The palate is supremely well balanced, delivering superb weight and penetration; the intense flavors of orange peel and sour lemon dovetail into discreet passion fruit and pawpaw notes toward the finish. Of course, there is outstanding mineralite throughout this Grand Cru. An awesome Chevalier-Montrachet. (NM)" 92-94 points Burghound "An elegant, pure and airy if mildly exotic nose combines notes of passion fruit, apple, white flowers and mineral reduction. There is excellent intensity to the racy medium-bodied flavors that possess a borderline creamy mid-palate while exuding an overt minerality on the balanced, hugely, long, tightly wound and ever-so-mildly austere finale. (AM)"
Ridiculously low 2-day shipping. Add to cart to calculate cost.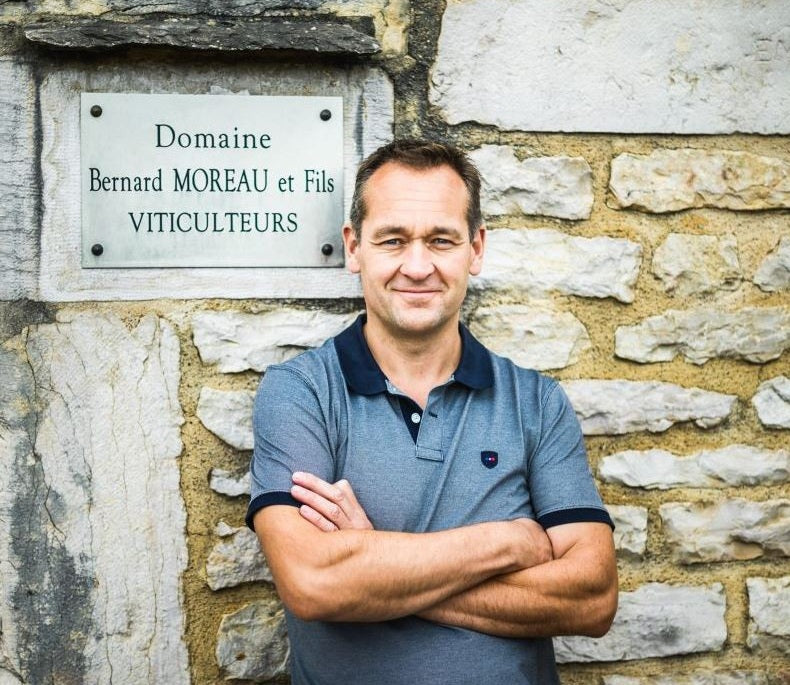 Anchored by a legacy of over two centuries, Domaine Bernard Moreau, nestled in Chassagne-Montrachet, has grown steadily into a producer of extraordinary wines under the stewardship of the fourth-generation, Alexandre Moreau. For more than two decades, Alexandre's vineyard operations and winemaking have been characterized by an unwavering commitment to quality, integrity, and the authentic expression of Burgundy's terroir. Alexandre's philosophy of early harvesting to retain acidity and the use of neutral oak barrels for aging gives his wines a distinctive minerally, acid-driven style.

Domaine Bernard Moreau takes pride in the meticulous care of their vineyards and the handpicking of grapes, resulting in wines that reflect their origin and dedication to craftsmanship. Their Chardonnays, revered for complex and layered flavors, evoke notes of citrus, green apple, underlined by a solid core of minerality. The Pinot Noirs, carrying hints of black cherry, plum, and a dash of spice, captivate with a rich and textural mouthfeel, creating a genuine representation of the Burgundian terroirs.

The Domaine's painstaking attention to detail sets them apart from other producers. It's a fact noted by William Kelley of The Wine Advocate, who commended the Domaine as "one of the most exciting addresses in the Côte d'Or." Domaine Bernard Moreau's commitment to terroir expression, traditional winemaking, and rigorous vineyard maintenance ensures that whether you're a seasoned wine enthusiast or a casual drinker, you'll find an unforgettable experience in each bottle.