2018 Domaine Comte Georges de Vogue Musigny Cuvee Vieilles Vignes
#172700087
Add to Favorites
Reviews 97 points Burghound "A ripe and super-fresh nose offers up notes of black raspberry, plum liqueur, Asian-style tea and a whiff of incense. The racy, intense and mineral-driven big-bodied flavors retain outstanding delineation as well as an abundance of palate soaking dry extract before delivering stunningly good length where an interesting hint of citrus character in the form of mandarin orange appears. This incredibly powerful effort is both classy and highly complex... (AM)"
Ridiculously low 2-day shipping. Add to cart to calculate cost.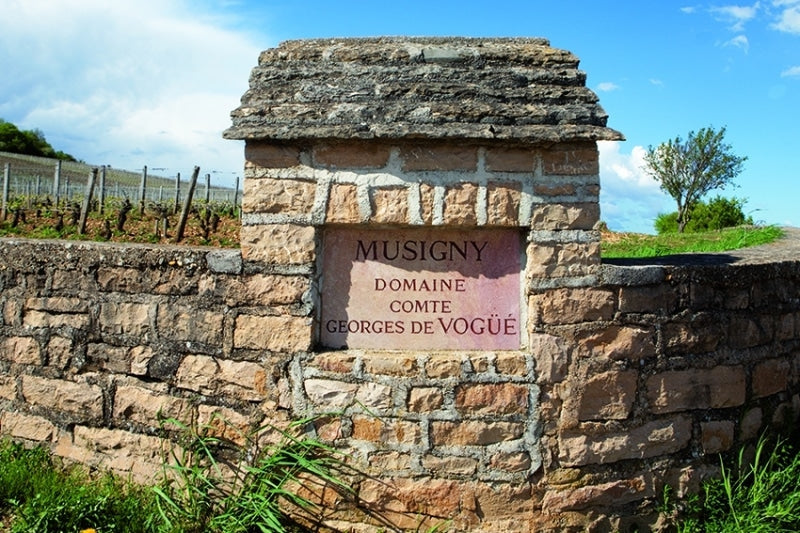 With over 500 years of history, Domaine Comte Georges de Vogue is a revered Burgundy estate, especially renowned for its superior Pinot Noir. Anchoring its prestige in Chambolle-Musigny, the estate's consistency in creating high-quality, elegant wines is truly impressive.

The estate owns prestigious Grand Cru vineyards including, Musigny, Bonnes-Mares, and others. Notably, it possesses a majority, around 70%, of the revered Musigny vineyard, an unusual feat among Burgundy estates.

The estate's wines are celebrated for their depth and texture. The Pinot Noirs are known for their smoothness and opulence, while the limited Musigny Blanc adds an elegant touch. The Bonnes-Mares wines are appreciated for their richness and structure, offering a delightful contrast to the traditional Musigny wines' vibrant sophistication.

Though not officially organic, the estate promotes biodiversity with methods like horse plowing and using organic compost. The winemaking process, led by François Millet, depends on vintage conditions and fruit maturity rather than a fixed formula. He favors natural yeasts, minimum sulfur, and mostly destemmed fermentation in large wooden vats. Maturation involves 15% new French oak for village wines and up to 35% for grand crus, ensuring the terroir's prominence. The wines are bottled unfined and unfiltered, preserving authenticity.

Offering a unique exploration of Burgundy's soul, Domaine Comte Georges de Vogue's wines encapsulate exceptional terroir and meticulous craftsmanship, earning their place in any discerning wine collection.