2018 Domaine Danjou-Banessy Estaca
#154084567
Add to Favorites
Reviews 17.5 points Jancis Robinson "It tastes of wild cherry, white pepper, pink peppercorns, Szechuan pepper, truffle and, more than anything else, rain on warm slate. Petrichor. Complex, yet almost exquisitely simple. (TC)"
Ridiculously low 2-day shipping. Add to cart to calculate cost.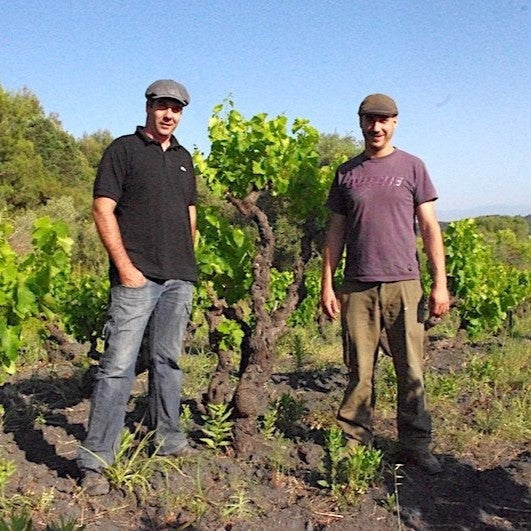 Domaine Danjou-Banessy, located in the village of Espira-de-L'Agly within the Agly Valley of Roussillon, is a wine estate with a rich history that has experienced a resurgence of energy and momentum under the stewardship of brothers Sebastion and Benoit since 2001. With a legacy of farming and winemaking in the region, the family has deep roots in the Roussillon.

Covering 42 acres, the estate practices organic viticulture with biodynamic principles, spanning the areas between Roussillon and the hills of Catalan, which are influenced by the nearby Pyrenees mountains. While the region historically focused on traditional fortified and sweet wines, the Danjou-Banessy brothers have embraced the growing trend of dry wines in Roussillon. This shift is driven by the region's exploration of the potential of dry wines and the evolving preferences of the international market.

At the heart of Danjou-Banessy's charm is the winery's uncanny knack for crafting reds that resonate with an unmistakable self-assuredness, capturing the essence of their terroir without leaning too heavily on sheer strength. These reds dance on the palate, revealing a tight-knit fruit core, seducing with layers of subtle intricacy and a minerally undertone. As for their whites, they defy expectations for wines birthed in warmer climes. They pulse with a lively zest, a refreshing vibrancy, and a hint of sea salt that speaks volumes of their roots.
The wines of Danjou-Banessy strike a captivating balance between rusticity, transparency, and elegance, distinguishing them from their peers in southern France. Benefiting from their location between the Mediterranean Sea and the hills of Catalan, the estate enjoys a favorable wine-growing axis with long and warm growing seasons. Furthermore, the commitment to organic and biodynamic practices is evident, with no chemical treatments used in the vineyards or winemaking process.

Crafted with minimal intervention, the wines of Domaine Danjou-Banessy exemplify the brothers' individualistic approach. Native yeasts ferment the fruit spontaneously, and the wines are bottled according to the moon's phases. Aging takes place in old wooden barrels, adding further complexity and character.

From the pure Macabeo of Les Terres Rouges to the 100-year-old Grenache vines of Clos Escounils, each cuvée reflects the diverse grape varieties and the distinct parcels of vineyards with their unique soils. The winemaking techniques employed, such as whole cluster fermentation and extended elevage, contribute to the distinctiveness and brilliance of these wines.

With a sense of sophisticated minerality, ripe fruit, and herbaceous undertones, the wines of Domaine Danjou-Banessy represent a lasting tradition and showcase the remarkable potential of the Roussillon region. These exceptional wines are a testament to the brothers' talent, passion, and dedication to crafting truly unique expressions of their terroir.