2018 Domaine de Trevallon
#155840426
Add to Favorites
Ridiculously low 2-day shipping. Add to cart to calculate cost.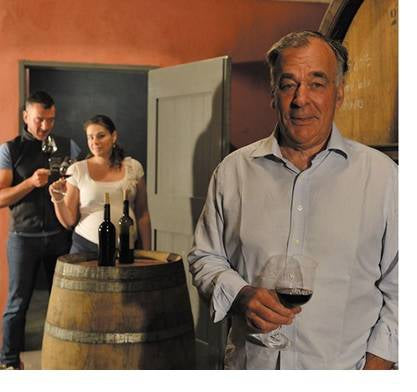 Domaine de Trevallon is in a class unto itself, a singular wine deeply rooted in place. Even after five decades, it remains an iconic, forward-thinking estate, steeped in tradition with an unmistakable style that is both timeless and modern. This is truly a benchmark wine of France, and one every collector should have in their cellar. Refined, complex, rich and savory, the wines of Trevallon effortlessly combine the power of Bordeaux with the lift of the Northern Rhone. Deeply flavored and hedonistic, paired with ample structure and finesse, the reds age marvelously, and drink well throughout their long lifetime. We've secured some of these cellar treasures direct from the winery, so now is the time to stock up – your future self will thank you!

The modern incarnation of Trevallon began in 1973, when Eloi Durrbach began the monumental task of planting vines for the estate. Sheltered at the base of the low Alpilles mountains, Eloi cleared the scrub and trees first, before dynamiting 17 hectares of plots scattered across the three valleys (tre vallon), breaking up the limestone slabs, and plowing deep into the soil. Inspired by the texts of Doctor Guyot, which noted that this area of Provence had done well with cabernet sauvignon prior to phylloxera, the Durrbachs planted cab and syrah in equal parts, with smaller amounts of chardonnay, marsanne and roussanne for the white. Presciently, vines were planted on the northern slopes to preserve freshness and encourage slow ripening of the grapes. Their canes are pruned short to greatly restrict yields, and the vineyards are plowed regularly to encourage deep root growth. Only organic methods are used.

In the cellar, whole clusters are fermented, with no added yeasts, temperature control and no sulfur throughout. Macerations last two weeks, with regular manual punchdowns and pump-overs. After the wine is pressed into old oak, mostly foudres and a few barrels, it ages for 20-25 months with minimal rackings. After a light egg white fining, it is bottled unfiltered. Specs don't do the finished wine justice, which is always engaging and energetic, deeply flavored with black cherries and red fruits, balanced by dried herbs, truffle, bacon and olive notes. The vibrant fruit is carried by juicy acids, a chalky mineral core, and ripe, well-integrated tannins. Aromatic, harmonious, and possessing length and breadth, Domaine de Trevallon wines are transparently Provencal, but every bit the equal of great wines elsewhere.

To no surprise, Trevallon quickly built a reputation based on its name and quality – so much so, that when the AOP limited the use of cabernet sauvignon to 20% in 1993, the Durrbachs hewed to their traditions and kept the percentages even, adopting the more generic Vin de Pays designation. Since 2009, the wines have been labeled as IGP Apilles, a mid-step between Vin de France and full AOP status. In practice, it matters not, as Domaine de Trevallon continues to stand alone.