2018 Domaine des Miroirs (Kenjiro Kagami) Vin de France Ja-Nai
#157216236
Add to Favorites
Ridiculously low 2-day shipping. Add to cart to calculate cost.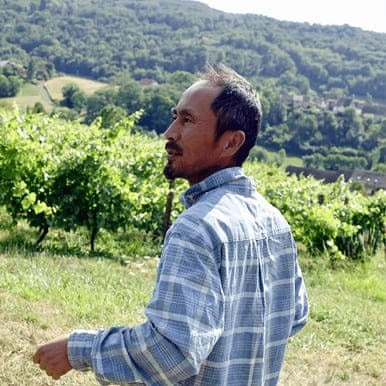 Domaine des Miroirs is a winery steeped in both myth and legend, thanks in large part to the incredible journey of its owner and winemaker, Kenjiro Kagami. Long before the domaine debuted with its tiny 2011 vintage, Kagami was already a well-known figure in the wine world. As an ex-Hitachi engineer, he left his native Japan in the late 90s to pursue his passion for winemaking, studying in Beaune and eventually working with some of the greatest names in the natural wine movement, including
Thierry Allemand
, Bruno Schueller, and
Jean-François Ganevat
.
It was Ganevat who ultimately helped Kagami find the perfect plot of land in the tiny village of Grusse, near Rotalier, where he would establish his own winery. Today, Domaine des Miroirs works on just 3 hectares of vines, producing roughly 500 cases per year.
Kagami's winemaking philosophy is deeply influenced by his extensive experience in some of the greatest cellars in France. He takes a minimalist approach to winemaking, allowing the terroir of each vineyard to speak for itself. His commitment to quality and tradition is reflected in every bottle, and the name Miroirs - a play on his own name in Japanese - serves as a testament to the mirror-like relationship between himself, his wines, and the terroir of his vineyards.