2018 Jacques-Frederic Mugnier Nuits St. Georges 1er Cru Clos de la Marechale
#158449375
Add to Favorites
Reviews 90-92 points Vinous "It has an attractive bouquet of mainly black fruit laced with black tea and bay leaf notes, plus touches of rose petal in the background. The palate is medium-bodied with fine-grained tannins, tending more toward a red fruit profile, with wonderful salinity on the finish. Good potential. Excellent. (NM)" 91 points Burghound "A brooding, slightly riper and more deeply pitched nose features notes of poached plum, cassis and plenty of spice and floral nuances and in particular violet. There is very good punch to the delicious and suave medium-bodied flavors that exude more evident minerality on the firm, serious and youthfully austere finish. (AM)"
Ridiculously low 2-day shipping. Add to cart to calculate cost.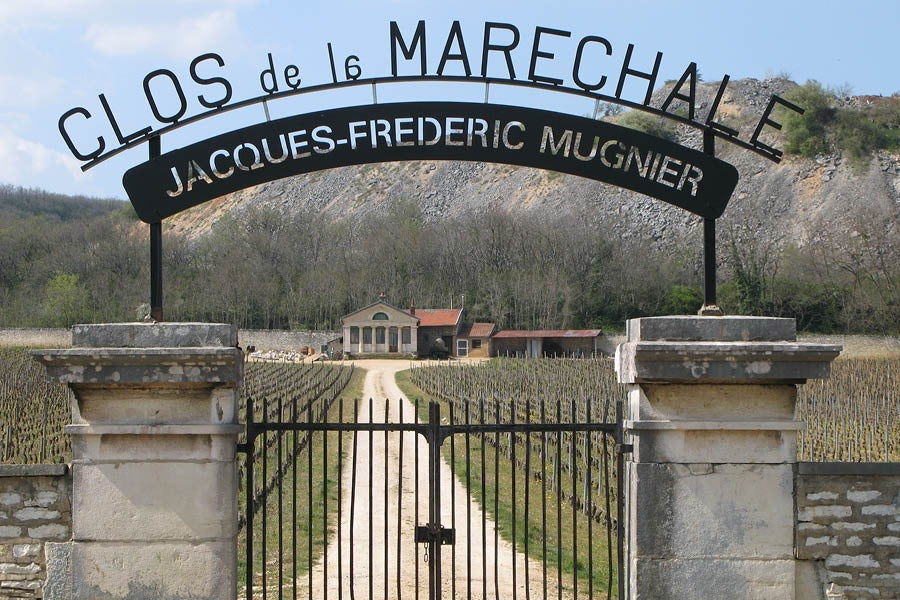 Domaine Jacques-Frederic Mugnier, nestled in the heart of Chambolle-Musigny, Burgundy, has dramatically transformed since Frédéric Mugnier assumed the reins in 1985. His deliberate break from the family's past – once reliant on négociants and tenants – brought a fresh approach that has elevated the reputation and quality of the Domaine's wines. He pursued sustainable farming practices, built a new winery, and notably ended the Faiveley family's lease on Clos de la Maréchale, thereby increasing the Mugnier holdings to 14 hectares.

Frédéric's approach to vinification is markedly different from the robust Pinot Noirs fashionable in the '90s. His dedication to a more delicate expression of the grape led him to de-stem 100% of his fruit and ferment using native yeasts, opting for a maximum of 25% new oak. By bottling his Pinot Noirs unfined and unfiltered, he ensures the wines capture the essence of their origin with utmost clarity and precision. These practices have given Mugnier wines a reputation for freshness, focus, and complexity, leading to their current sought-after status.

The Domaine's history stretches back to the 1880s, initiated by Frédéric's great-great-grandfather, Francois. The original holdings, the product of astute acquisitions during the phylloxera crisis, have remained largely unchanged. Today, the domaine boasts some of the most coveted vineyards in Chambolle-Musigny, including the Musigny Grand Cru, Bonnes-Mares Grand Cru, Les Fuees, and Les Amoureuses premier cru vineyards.

In 2004, a significant change occurred when Frédéric regained control of Clos de la Maréchale, tripling the size of Domaine Mugnier overnight. This expansion required a scaling up of operations, including the construction of a new cuverie and the hiring of more vineyard workers.

At Domaine Jacques-Frederic Mugnier, the drive for purity of expression and respect for terroir is paramount. Guided by an engineer's reason and an artist's aesthetics, Frédéric seeks to produce wines that bear no signature but that of the vineyards themselves. His dedication to reasoned viticulture eschews simplistic organic labels for a nuanced approach to vineyard management, reflecting his philosophical pursuit of wines that capture the truest essence of their terroir. His are wines without a footprint, where the voice of the vineyard reigns supreme.