2018 Pierre Morey Batard-Montrachet
#158994094
Add to Favorites
Reviews 94-96 points Wine Advocate "Aromas of green pear, almond paste, mandarin oil, honeyed yellow orchard fruit and pastry cream introduce the 2018 Bâtard-Montrachet Grand Cru, a full-bodied, deep and muscular wine that's layered and concentrated, with lovely mid-palate amplitude and serious chalky structuring extract. (WK)" 96-98 points Vinous "It has an absolutely killer bouquet of intense, mineral-rich citrus fruit that gains vigor with aeration. Wonderful delineation and precision here, with oyster shell and estuarine scents emerging with time. The palate is very well balanced, delivering a precise, intense entry and enormous depth and volume in the mouth, but with counterbalancing tension on a long, spicy finish that fans out wonderfully. Superb. (NM)" 92-94 points Burghound "Discreet wood sets off the white peach and panoply of citrus elements that exhibit a touch of phenolic character. There is excellent delineation and vibrancy to the broader-shouldered flavors that possess fine depth on the tautly muscular and powerful finish that is clean, dry and youthfully austere. (NM)"
Ridiculously low 2-day shipping. Add to cart to calculate cost.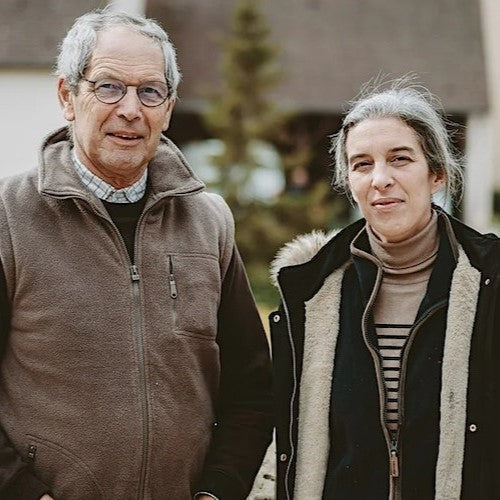 Domaine Pierre Morey is an esteemed Burgundy wine producer with roots dating back to 1793. This familial legacy manifests in meticulously crafted wines that express the quintessential character of their Burgundy terroir. Today, Pierre Morey, a revered winemaker, and former Cellar Master at
Domaine Leflaive
, leads the domaine alongside his daughter Anne Morey, embodying the continuum of passion and skill.
The 10-hectare estate is located in the heart of the Côte de Beaune, with vineyards in Monthelie, Pommard, Puligny-Montrachet, and, notably, Meursault. Initially acquiring vineyards through sharecropping contracts with
Domaine des Comtes Lafon
, Pierre later augmented the family's holdings with purchased plots, resulting in a diverse portfolio of terroirs.
A pioneer of biodynamics in Burgundy, Pierre transitioned the vineyards to organic farming in 1993, culminating in full biodynamic certification in 1997. This ethos fosters an intricate symbiosis with nature, engendering wines with a profound sense of place.
Domaine Pierre Morey's wines are acclaimed for their balance and subtlety, weaving together power, finesse, fruit, and minerality. The Chardonnays, whether the
Bourgogne Blanc
from deep clay-chalk soils or the Meursaults from distinctive terroirs such as Les Forges, Les Pellans, and Les Chaumes de Narvaux, demonstrate complexity and structure, offering both immediate appeal and aging potential. Among the Meursault offerings, the
Perrières
parcel yields a particularly astounding wine characterized by robust structure and unmatched length, promising more than 20 years of longevity.
While respecting tradition, Domaine Pierre Morey also shows an adaptive spirit, with the recent inclusion of the
Meursault Le Meix Tavaux
plot in their repertoire, enhancing their range of expressive, terroir-driven Burgundian wines.
Domaine Pierre Morey's wines are a testament to the Morey family's deep-rooted passion for winemaking and unwavering commitment to the health of their vineyards, making them a valuable addition to any discerning wine collection.