2019 Domaine Eleni et Edouard Vocoret Chablis En Boucheran
#154434920
Add to Favorites
Reviews 90-92 points Vinous "...has a pretty nose of expressive yellow flowers mixed with honeysuckle and light jasmine scents. The palate is lightly spiced on the entry, edgy and tensile, with a vibrant peppery finish. Good potential – lots of energy locked up in this Chablis. (NM)"
Ridiculously low 2-day shipping. Add to cart to calculate cost.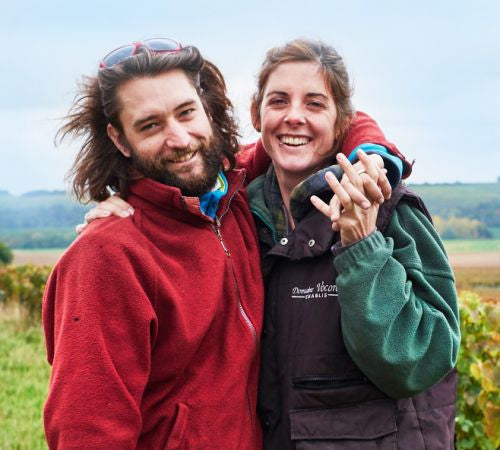 Located in the heart of Chablis, Domaine Eleni et Edouard Vocoret emerged as a testament to a couple's shared passion for viniculture. The love story of Eleni and Edouard Vocoret, who met during a 2010 harvest in New Zealand, found its ultimate expression in their 4.9-acre vineyard, a branch off Edouard's familial Domaine Vocoret.

This husband-and-wife duo embodies the vibrant, dynamic spirit of Chablis's new generation of winemakers. Their wines have garnered recognition for their "delicious elegance and exquisite texture," as noted by James Suckling, making this relatively fresh face in the wine world one to watch closely.

Taking on an artisanal approach to viniculture, the couple focuses on producing single site village level wines. This method, which emphasizes the unique personality of each individual plot, allows for the creation of distinct and characterful vintages. Their sustainable farming practices and intimate understanding of their vineyards underscore their deep-rooted commitment to their craft.

Eleni, having honed her skills under the watchful eye of renowned winemaker Vincent Dauvissat, joins forces with Edouard, a scion of a long-established winegrowing family, to redefine the paths of their winery. One of their particular focuses is on the Las Bas de Chapelot Lieu Dit, which sits just below Montee de Tonnerre.

Their approach to winemaking stands out due to its blend of tradition and innovation. All wines undergo fermentation and malolactic fermentation in steel tanks, then are transferred to old oak barrels for maturation, a process that lasts 9 months for their lieu-dit wines and 12 for the 1er Cru.

The wines from Domaine Eleni et Edouard Vocoret are marked by their vitality and balance, with critics recognizing their unique position among artisanal domaines in the region. The Vocorets' wines are an exploration of Chablis' trademark minerality, weight, and complexity, offering a flavorful narrative of the region's rich vinicultural tradition.