2019 Guilhem et Jean-Hugues Goisot Saint-Bris Corps de Garde
#171561731
Add to Favorites
Ridiculously low 2-day shipping. Add to cart to calculate cost.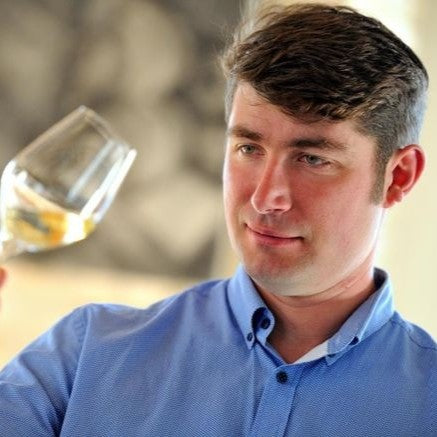 Nestled in the village of Saint-Bris-Le-Vineux, Guilhem et Jean-Hugues Goisot signifies the revival of viticulture in Burgundy's Yonne region. This corner of Burgundy, a mere hop southwest from Chablis and close to the city of Auxerre, was once favored by the Romans for the exceptional quality of its wines long before the Côte d'Or came into fame. The district's uniqueness emanates from its Kimmeridgian limestone soils and cool climate, mirroring the terrain of Chablis. These terroirs foster wines that exude refinement and minerality, with an invigorating thirst-quenching character that differentiates them from their southern Burgundian counterparts.

Jean-Hugues Goisot, his wife Ghislaine, and son Guilhem are the recognized champions of this region. As premier vignerons, they lead a viticultural renaissance with their devotion to low yields, sustainable farming, and minimalist vinification. Their vineyard-centric approach emphasizes plowing the soil to promote deep root growth and using organic composts. This meticulous care in vineyard management results in early and even ripening with naturally low yields (50-55 hl/ha for the whites and 35-40 hl/ha for the reds). Their commitment to the land is evident, with the family's vineyards organically farmed since 1990 and certified in both organic and biodynamic viticulture.

Their winemaking is equally rigorous, starting with hand-harvesting and thorough triage. They de-stem, gently crush and press the grapes, and then ferment with only wild yeasts. The whites undergo malolactic fermentation without stirring to retain their inherent freshness, whereas the reds have more extended maceration periods with occasional pump-overs before being transferred to barrels for malolactic fermentation. Each cuvee ages for 10 to 16 months before bottling without fining and filtering, allowing the unique qualities of the wines to shine through.

Their masterful work is best exemplified in the lineup of Bourgogne Aligoté, Bourgogne Côtes d'Auxerre Chardonnay, and Sauvignon de Saint Bris, each embodying the purest expression of the terroir. Notably, the Chardonnay is celebrated for its complex, full-bodied character that offers excellent value. Their vineyard-specific wines, such as Biaumont, Gondonne, and Gueules de Loup, demonstrate a seamless balance of concentration and litheness.

In addition to Chardonnay, they are unique in growing Sauvignon Blanc and Aligoté, a delightful result of Saint Bris's historical separation from the Chablis appellation. Their notable expressions include the Saint Bris Exogyra Virgula, a steel-vat fermented and aged wine delivering brilliant minerality and intense citrus and melon notes, and the Faucertaine, a Chardonnay showcasing crisp mineral tones balanced by a robust palate. Their rare varietal, Corps de Garde, a Sauvignon Gris aged and fermented in barrels, bursts with floral, creamy, and exotic aromas, reflecting the meticulous skill of the Goisots.

The Goisots' passionate commitment to viticulture, respectful vinifications, and an innate understanding of their terroir positions them as one of Burgundy's standout producers. Their wines radiate quality and value and testify to their devotion to revealing the true essence of their soils, making them a worthwhile addition to any collection or table.