2019 Julien Cruchandeau Ladoix Les Ranches
#158214294
Add to Favorites
Reviews 90 points Wine Advocate "Always an attractive cuvee, the 2019 Ladoix Les Ranches delivers aromas of raspberries and plums mingled with spices and sweet soil tones. Medium to full-bodied, lively and elegantly muscular, with powdery tannins and fine depth at the core, it has turned out well. (WK)"
Ridiculously low 2-day shipping. Add to cart to calculate cost.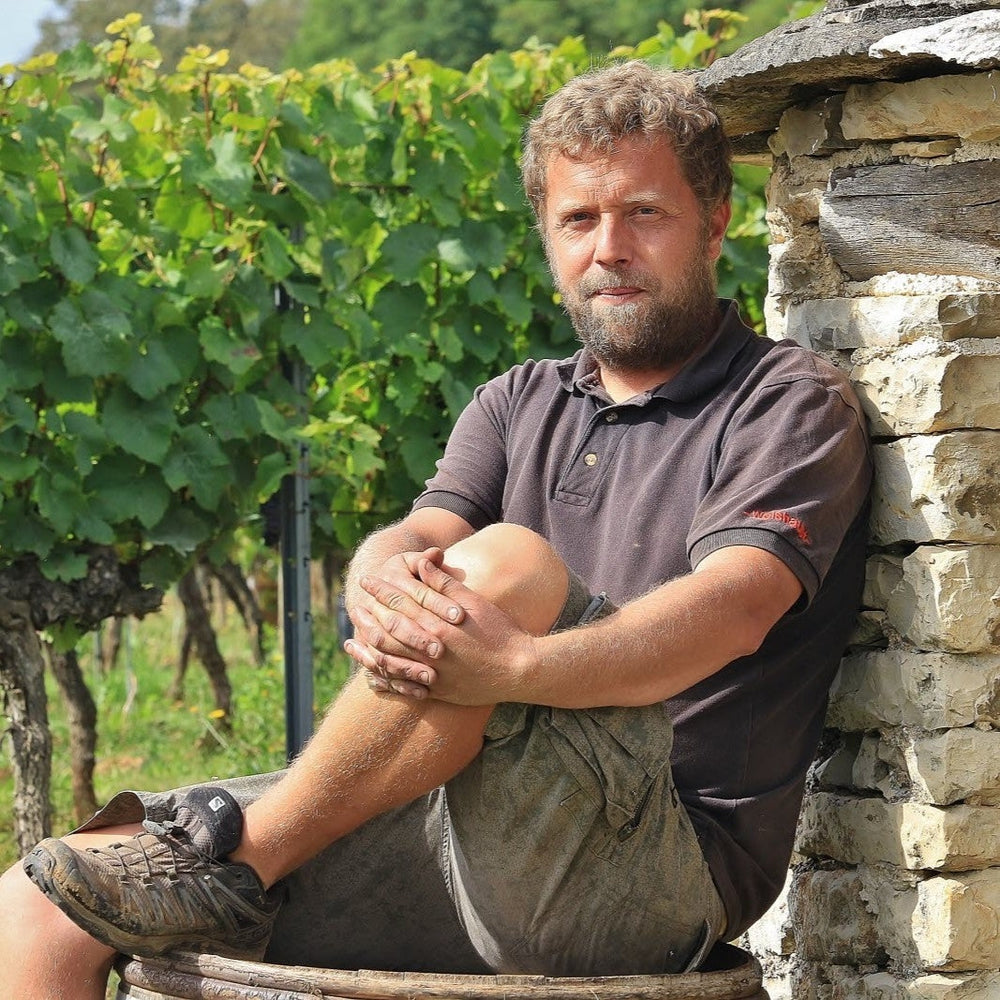 Having grown up amidst the rolling vineyards of Burgundy, Julien Cruchandeau, a gifted vintner, founded his own estate, Domaine Cruchandeau, in 2003. With a penchant for unveiling the hidden gems of the region, he showcased less-celebrated appellations such as Bouzeron and Hautes-Côtes de Nuits. Though Julien's early forays were in the hospitality realm, the call of the vine proved irresistible. He delved back into the world of wine, honing his craft with intimate experiences at renowned estates like Domaine Seguin de Gevrey-Chambertin and Domaine France Lechenault. Such ventures only deepened his passion and expertise, making him a true connoisseur of Burgundian wines.
Cruchandeau's winemaking philosophy centers on sustainable viticulture, adhering to the principle of Lutte Raisonnée and opting for low yields to produce high-quality grapes. His vineyards have been farmed organically since 2011, favoring manual harvesting and indigenous yeasts. Wine maturation spans 8 to 18 months in vats or barrels, with some lees aging for whites. The wines are bottled after a light filtration, except for the Nuits-Saint-Georges, which remains unfiltered.

Julien has a particular focus on the Aligote grape, embracing the challenge to elevate it in the appellation of Bouzeron. This choice was inspired by his interaction with Aubert De Villaine, who offered him massale selection vines, yielding deeper and more complex wines. This collaboration birthed the Massale, one of the stars of the Bouzeron appellation.

Cruchandeau's continual ambition to improve his craft and offer unique expressions of the terroir has led him to secure vineyards in regions like Nuits-Saint-Georges, Savigny-lès-Beaune, and Ladoix. Each wine he produces carries the signature of its origin, offering aromatic, bright, fresh flavors with a well-expressed sense of place.

Despite the challenges of starting a domaine from scratch in Burgundy, Julien has made significant strides, establishing himself as one of the noteworthy winemakers of his generation. His approach to winemaking demonstrates a deep respect for the land, a passion for elevating underdog appellations, and a commitment to crafting wines of remarkable depth and quality. His wines serve as a testament to his skill, highlighting the unique nuances of Burgundy's diverse terroir.