2019 Monthelie-Douhairet-Porcheret Monthelie 1er Cru Le Meix Bataille
#170644001
Add to Favorites
Ridiculously low 2-day shipping. Add to cart to calculate cost.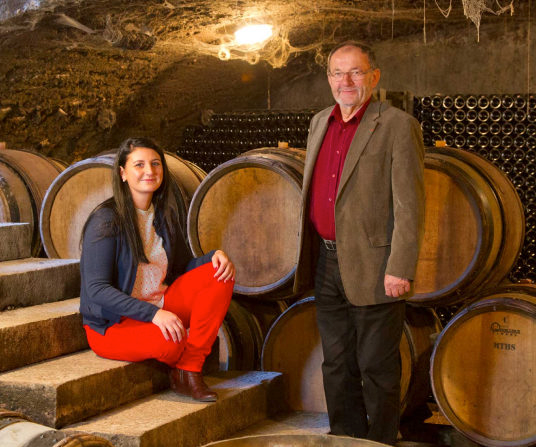 Domaine Monthélie-Douhairet-Porcheret, a 300-year-old domaine located in the heart of Monthélie,, is steeped in history and boasts an extraordinary pedigree. The domaine covers 13 hectares of vineyards in Monthelie, Pommard, Volnay, and Meursault and is currently directed by Cataldina Lippo, granddaughter of the legendary André Porcheret.
André Porcheret's esteemed career began as Head Winemaker for the Hospices de Beaune from 1976-1988. He later joined forces with Lalou Bize-Leroy of
Domaine Leroy
in 1988, helping to establish the domain and convert its vineyards to biodynamic farming. In 2004, André entrusted the domaine to his granddaughter Cataldina, who now carries on his exceptional legacy.
Cataldina works alongside her husband, Vincent, in the vineyards and winery. The domaine practices sustainable farming and adheres to traditional winemaking techniques. White wines undergo fermentation and are aged for 15 months in barrels, while reds are 100% destemmed and aged for 18 months in barrels, with 10% new oak. All wines are bottled without fining or filtration, showcasing the old-school structure, plush fruit, and silky texture that has become their signature.
Domaine Monthélie-Douhairet-Porcheret is celebrated for its unique connection to Domaine Leroy, as André Porcheret's experience and expertise are evident in the wines produced under Cataldina's tenure. Under her watchful eye, the wines have become purer and more elegant, consistently surpassing expectations and garnering critical acclaim. William Kelley of Wine Advocate aptly noted, "I've been visiting regularly for several years now, and I'm consistently impressed by the wines' progress."