2019 Pierre Gonon St. Joseph
#147642512
Add to Favorites
Reviews 94 points Wine Advocate "Gonon's 2019 Saint Joseph retains the typical floral signature on the nose, but it is more dark-fruited than usual, with notes of black cherries, blackberries and even black olives. It's medium to full-bodied, the first vintage recorded over 14% alcohol, according to Jean Gonon (14.2%). Concentrated, rich and velvety in feel, it boasts a long, gently chewy finish and should age well. (JC)" 18 points Jancis Robinson "What an expressive nose! Brooding spice, black-olive and meaty undertones with an earthy tequila-type note. A snappy and focused palate with great density and intensity of fruit. Then black pepper and clove spice blends with ripe blackberry – saline and fresh. The fine tannins tickle the juicy, succulent and vibrant palate – supremely tasty and pleasurable. (AC)"
Ridiculously low 2-day shipping. Add to cart to calculate cost.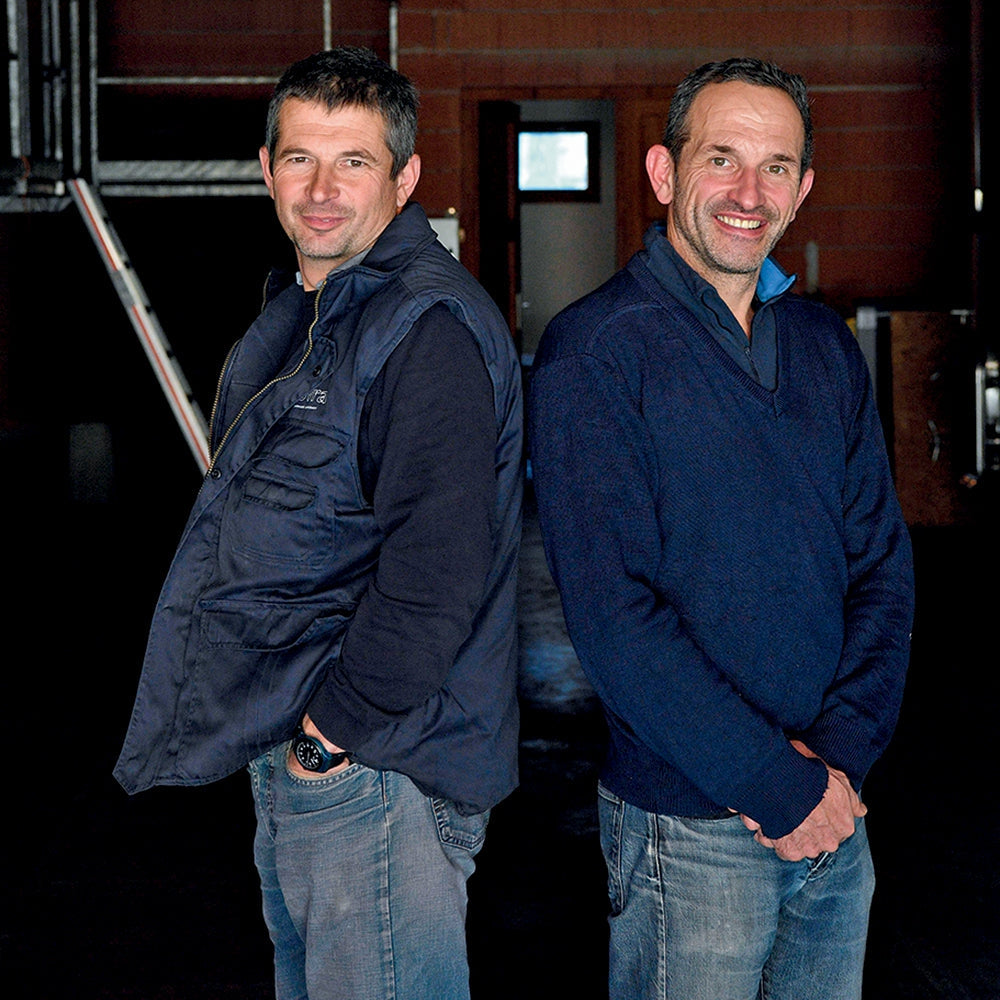 Domaine Pierre Gonon, based in Mauves, in the heart of St. Joseph, is revered for producing some of the greatest Syrah in the world. The Gonon brothers, Pierre and Jean, uphold a distinct and conventional winemaking approach that sets them apart from their contemporaries. They personally oversee their ten-hectare vineyards, guaranteeing the growth of high-quality, low-yielding grapes, which is reflected in the complex character of their wines.

The Gonon brothers apply traditional manual methods, including foot crushing of grapes and stem inclusion during fermentation. These techniques, when combined with their organic farming practices, lead to wines with classic black olive, violet, and game aromatics and a refreshing delicacy indicative of the region.

Based in the historic heart of Saint Joseph, Pierre, and Jean Gonon are considered spiritual successors of Raymond Trollat, a respected figure in Rhone Valley winemaking. Their vineyards, located in Mauves, Tournon, and Saint-Jean-de-Muzols, are sites of steep, east and southeast-facing slopes with poor, well-draining granite and gneiss soils that echo the legendary hill of Hermitage across the Rhône. They perpetuate genetic diversity by replanting using sélection massale cuttings from their robust vines, preserving healthy rootstock.

The Gonon brothers work their vineyards organically, even utilizing horse plowing on the steep slopes. Their dedication to traditional farming is reflected in the certifications received for organic farming in 2013. Once harvested, they ferment the wines traditionally in open oak vats with regular foot punch-downs. The high proportion of stem inclusion in the reds adds to the wine's classic aromatics and aging potential.

Their Syrah wines, spanning from Côte Rôtie, Cornas to St. Joseph, are renowned for their brilliance and traditionalism. These wines perfectly capture the appellation's wild, savory, yet fresh and mineral character, becoming increasingly appreciated by a growing circle of wine connoisseurs.

Pierre Gonon's wines have become highly coveted due to their purity of character and their steadfast commitment to traditional methods. Despite the rising demand and soaring prices, the Gonon brothers remain focused on maintaining their artisanal approach, ensuring that each bottle encapsulates their passion and dedication to the art of winemaking. Their wines offer a unique expression of the terroir, making them a must-have for any wine enthusiast.