2019 Walter Scott Pinot Noir Cuvee Ruth
#160871888
Add to Favorites
Ridiculously low 2-day shipping. Add to cart to calculate cost.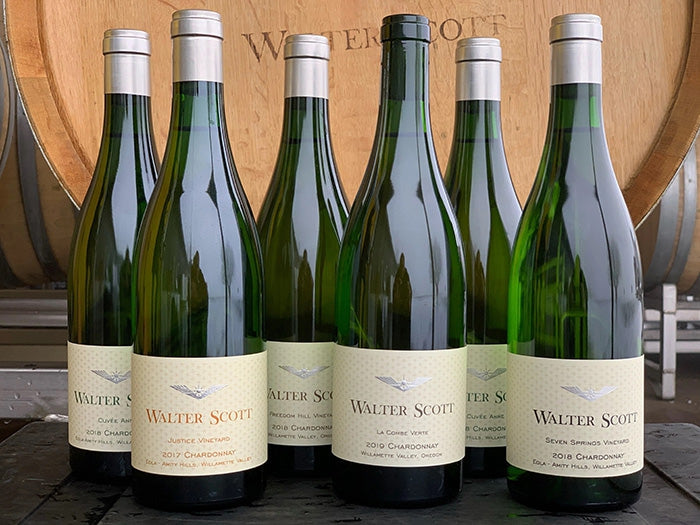 Walter Scott Wines, established in 2008 by the passionate duo Ken Pahlow and Erica Landon, has quickly become a prominent producer of exceptional wines in the Eola-Amity Hills AVA in Oregon. Producing around 5,000 cases per year, this dedicated pair is devoted to showcasing the unique qualities of their favorite dry-farmed vineyards.

Their winemaking philosophy is centered on a minimalist approach, with a focus on low yields through careful pruning, early harvests, greater de-stemming, less whole cluster usage, natural yeast fermentation, and pump-overs as opposed to punch downs. This scrupulous method has produced a range of exceptional wines, including their flagship Chardonnay Cuvée Anne Eola-Amity Hills, which represents a barrel selection from their finest Chardonnay sites, such as Justice, Koosah, Seven Springs, Sojeau, and X Novo Vineyards.

Their Chardonnay and Pinot Noir wines undergo aging in 500 and 350-liter barrels for 12 and 15 months, respectively, before being finished in stainless steel for an additional three months. This process yields wines with exceptional balance, complexity, and freshness.

Esteemed wine critic Neal Martin has praised their work, describing the wines as "killer Pinot Noir with purity, intensity, and personality," and adding that they are "the kind of wines that I would take home to drink following a hard day's tasting."

Walter Scott Wines' notable offerings include the Chardonnay Freedom Hill Vineyard Mt. Pisgah, Chardonnay Koosah Vineyard Eola-Amity Hills, and Pinot Noir Freedom Hill Vineyard Mt. Pisgah. Each wine reflects the distinctive terroir, climate, and farming practices of the vineyards, providing a singular experience for the discerning collector.

Ken and Erica's unwavering commitment to excellence has made Walter Scott Wines a standout producer in Oregon, attracting the attention of wine enthusiasts and critics alike. Their expertise and passion have led to their rapid ascent as one of the world's top producers of Burgundian varietals, with their captivating wines from the remarkable 2021 vintage further solidifying their esteemed reputation.

Through their dedication to precision and elegance, Walter Scott Wines embodies a clear devotion to capturing the essence of the Eola-Amity Hills AVA. Whether you are a longtime fan or have yet to experience the magic of their wines, now is the perfect opportunity to discover the exceptional offerings from this iconic Oregon producer.