2020 Chateau Grand Village Blanc
#154567961
Add to Favorites
Ridiculously low 2-day shipping. Add to cart to calculate cost.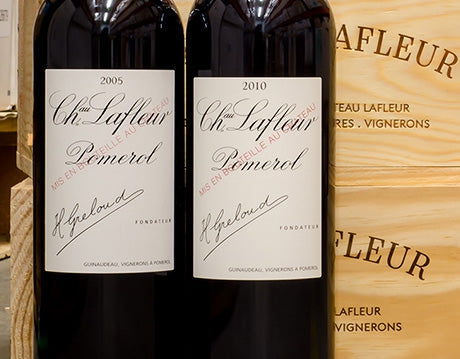 Nestled in the heart of Pomerol, Chateau Lafleur is a legendary producer highly esteemed for its extraordinary terroir, meticulous winemaking, and exquisite portfolio of wines. Its 11-hectare vineyard, a stone's throw from Chateau Pétrus, is blessed with clay, gravel, and clay-limestone soil, providing a foundation for the complexity, elegance, and minerality embodied in its wines.

Planted with an almost equal proportion of Merlot and Cabernet Franc (Bouchet), the domaine has an average of 45-year-old vines, with some dating back to the 1950s. This old-vine heritage imparts depth and concentration to the wines, enhanced by Chateau Lafleur's adherence to organic and traditional viticulture, hand-harvesting, rigorous grape sorting, and massale selection.

Chateau Lafleur's winemaking, a fusion of traditional methods and modern innovations, involves fermentation in temperature-controlled stainless steel and concrete vats, followed by maturation in French oak barrels. A modest 25% of new oak was used in the spectacular 2022 vintage, emphasizing the natural structure and fruit concentration. This approach results in powerful yet elegant wines, offering a harmonious interplay of opulence and finesse.

The repertoire of Chateau Lafleur encompasses the revered Lafleur Grand Vin, Les Pensées, Les Perrières, Les Champs Libres, and Château Grand Village. Each label is a testament to a specific facet of the estate's terroir, grape varieties, and winemaking philosophies.

The Lafleur Grand Vin, typically equal parts Merlot and Cabernet Franc, consistently stands out as a legendary wine, presenting a harmonious fusion of vibrant fruit, core minerality, and smooth tannins. Les Pensées, hailing from a clay-heavy ancient river bed within Lafleur, offers a Merlot-dominant wine renowned for its plummy complexity and nourishing richness. Les Perrières, sourced from the high-altitude limestone soils of Fronsac, delivers high-toned fruit with refreshing acidity, aptly referred to as the 'Lafleur on limestone.'
Finally, Chateau Grand Village, a consistent value offering, offers the pedigree of Lafleur at an astonishingly reasonable price. This Merlot-dominant blend offers early accessibility, evolving over time to reveal its inherent minerality and the distinctive Lafleur touch.

With its distinctive terroir, and dedication to traditional and innovative techniques, Chateau Lafleur stands as an iconic producer of elite Bordeaux wines, offering both collectors' gems and accessible pleasures that will offer years of enjoyment around the table.