2020 Dolores Cabrera Fernandez La Araucaria Rosado
#153121911
Add to Favorites
Ridiculously low 2-day shipping. Add to cart to calculate cost.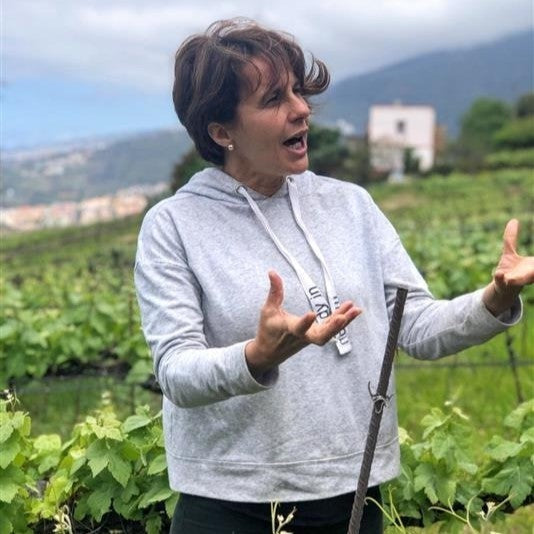 Situated in the Canary Islands, Dolores Cabrera Fernandez is a leading viticulturist producing truly unique wines under her project name, La Araucaria, inspired by a native evergreen tree. Trained in Tacoronte, Dolores brings a decade-long experience as a head viticulturist from Bodegas Monje to her winemaking, drawing help from her husband Pedro and an adept team of women in the cellar and harvest operations.

Her vineyards, located in the DO Valle de La Orotava, host century-old vines trained in the distinctive cordón trenzado style. This technique, exclusive to La Orotava, combats the region's humidity by promoting better airflow. Covering 700 hectares, the vineyards primarily cultivate Listán Negro, a unique indigenous varietal.

Dolores maintains four vineyards, named after their respective towns, each bearing distinct character due to their individual terrains. La Haza flaunts 100-year-old vines at 300 meters, Montijo hosts the youngest vines of 50 years, while Hacienda Perdida and San Antonio both boast vines over a century old, nestled between 450 to 500 meters of altitude.

The La Araucaria Blanco, made from the Listán Blanco grape variety, undergoes a 20-day skin maceration process after hand harvesting, fermented in a steel vat, and rests on fine lees for seven months. On the other hand, La Araucaria Rosado, hailing from two vineyards – Montijo and Hacienda Perdida, undergoes a shorter skin maceration for 12 hours and is aged in stainless steel tanks. Both these wines are bottled with minimal intervention, preserving their distinctive character.

The La Araucaria Tinto is a stunning red made from centenarian Listan Negro vines from the San Antonio vineyard. This wine undergoes whole-cluster carbonic maceration for 12 days, followed by additional skin maceration for seven days, which offers it its unique character.

It's Dolores' lifelong dedication to organic farming and her vineyards that shapes her wines, encapsulating the essence of the Canary Islands with a distinct earthiness and unusual texture born from volcanic soil mixed with clay. She constantly advocates for other farmers to adopt organic farming methods, promoting a sustainable and harmonious relationship with the land, which makes her wines not only an enjoyable experience but a testament to her commitment to nature.