2020 Domaine Denis Mortet Chambertin
#167839737
Add to Favorites
Reviews 95-97 points Wine Advocate "...a magical wine in the making that unwinds to reveal deep fruit tones evocative of raspberries and cherries, complemented by notions of peonies, violets, blood orange, forest floor and burning embers. Full-bodied, layered and seamless, it's deep and multidimensional, with exquisitely refined structuring tannins and an ineffable sense of completeness. Concluding with a long, perfumed finish, it's one of the domaine's finest Chambertin to date. (WK)" 94-97 points Burghound "Background hints of herbal tea, the sauvage and wood toast add breadth to the fresh, cool and equally restrained dark currant scents. Once again there is a strikingly attractive texture to the muscular, power and mineral-driven flavors that culminate in a chiseled, very firm and hugely long finale that is a bit less youthfully austere than usual. In a word, superb. (AM)"
Ridiculously low 2-day shipping. Add to cart to calculate cost.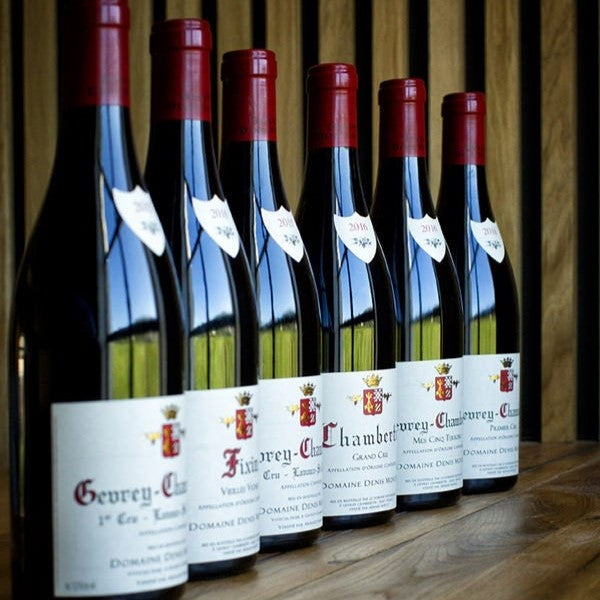 Nestled in the heart of Burgundy, the esteemed Domaine Denis Mortet carries with it a legacy that resonates with every bottle. Since 2006, the passionate trio of Laurence Mortet and her two children, Clémence and Arnaud, have been the torchbearers of this vineyard's storied past. Seamlessly weaving age-old traditions with modern winemaking nuances, their approach is a heartfelt nod to authenticity and a deep reverence for their roots. Every choice they make, both amidst the vines and within the hushed confines of their cellar, is a testament to their unwavering commitment to excellence and heritage.
The estate's vineyard is a mosaic of over a hundred parcels that span from Daix to Vougeot. Initiated by Charles Mortet in 1956, the estate has evolved to encompass 16 hectares, including Premier Crus and Grand Crus sites. This expansion was primarily led by Denis Mortet and his wife Laurence, who meticulously built upon Charles' initial holdings. Notably, the estate is home to parcels in prestigious sites such as Lavaux Saint-Jacques, Bonnes-Mares Grand Cru, and Mazis-Chambertin Grand Cru.

Under Arnaud's stewardship, the vineyard practices have seen a transformative shift. He significantly reduced the use of plowing to preserve soil structure, promoted cover crops, and adapted treatment doses to leaf areas, resulting in a profound reduction in chemical usage. All these measures have optimized grape quality and soil health, ensuring the best expression of the estate's diverse terroirs.

In the cellar, Arnaud seeks to maintain the integrity of the fruit, employing minimal intervention techniques. Harvest reception has been updated, with small crates used to avoid damage to the grapes. There's a particular emphasis on preserving whole berries to intensify fruit aromas. Indigenous yeasts trigger the fermentation process, with vatting times calibrated for each wine, complemented by meticulous use of new wood during maturation.

Arnaud's deft touch in both the vineyard and cellar has led to wines that express a classic profile complemented by freshness, silkiness, and length. The wines from Domaine Denis Mortet are a testament to the Mortet family's deep respect for the land and an unyielding commitment to authenticity and precision in winemaking. With Laurence, Clémence, and Arnaud at the helm, Domaine Denis Mortet continues to rise in stature, captivating the hearts of Burgundy enthusiasts with wines that are the embodiment of elegance and finesse.