2020 Ochota Barrels Syrah where's the pope?
#155886225
Add to Favorites
Ridiculously low 2-day shipping. Add to cart to calculate cost.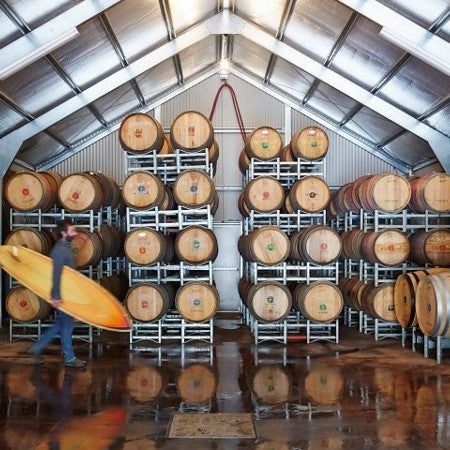 At the turn of the millennium, Taras and Amber Ochota, inspired by their explorations of world-renowned wine and surf regions, set out to craft premium wines in their home of South Australia. Their ambition: to showcase Grenache from McLaren Vale and Syrah from the Barossa Valley, leveraging exceptional old vineyard sites to produce vibrant, small batch, single vineyard wines. The vineyards, including fascinating old plots in the Adelaide Hills, are meticulously farmed, bearing small berries and low yields, testifying to their holistic, biodynamic approach—inspired by the vintners they met in southern France.

In the cellar, a hands-off, minimal-intervention method shines through. Early picking to sustain natural acidity, indigenous yeast fermentations, and whole-bunch pressing for the whites, while the reds undergo whole-bunch fermentation with extended maceration. A notable focus on texture is present; mouth-feel is crafted with skin contact and batonnage. The wines age in old French oak barrels, with only a whisper of sulfur at bottling. The resulting wines are mouthwatering, exuding a vibrant energy and tension.

This spirit reflects Taras' philosophy of producing something delicious and gorgeous for everyone to enjoy. Taras Ochota, who sadly passed away in 2020, was a phenomenal talent whose loss echoes in the wine world. His wife Amber, supported by the Ochota team and the family's long-time friend Louis Schofield, persists in the legacy that the Ochotas began.

Some of their offerings include the Green Room Syrah Grenache, a lush, opulent, yet nervy wine with a savory texture and a profusion of bright red fruits; Texture Like Sun Sector Red, a balanced blend of nine different grape varieties resulting in a light-bodied but aromatic red wine; also their Slint Chardonnay, a modern Australian Chardonnay with tangy Granny Smith apples and steely minerality, overlaid by a gentle leesy creaminess and a precise, savory umami finish. The Ochota Barrels craft distinctive wines that are at once raw, edgy, and utterly delicious.