2020 Xavier Gerard St. Joseph Le Blanchard
#166276978
Add to Favorites
Ridiculously low 2-day shipping. Add to cart to calculate cost.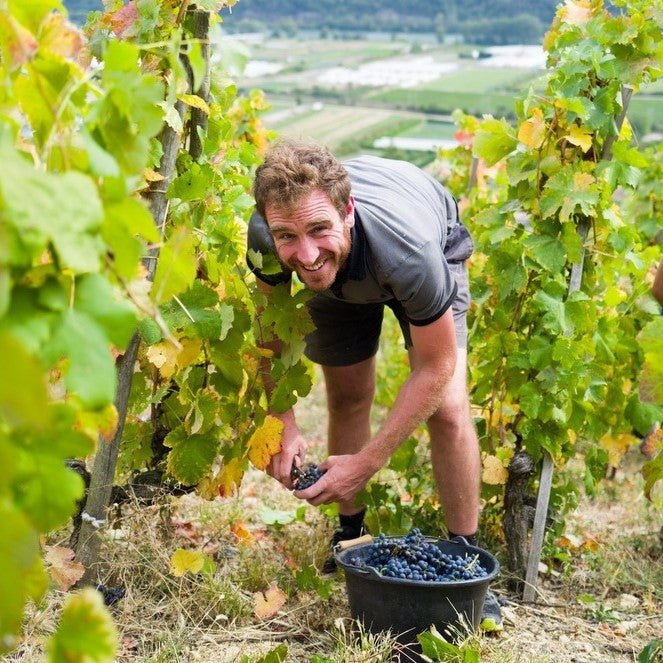 Xavier Gérard is emerging as a luminary in the Northern Rhône. His vineyard holdings cover 3 hectares of estate-owned and 0.5 hectares of rented land in Condrieu, 2.2 hectares of family-owned vineyards in Côte-Rôtie, and a small plot in Saint Joseph. His dedication to organic farming and intricate manual labor on the steep, rugged slopes enriches the wines with a distinct terroir profile.

Gérard's Condrieu wines, crafted with elegant precision and an acid-prizing touch, exhibit a restrained allure and distinct minerality. His Côte-Rôtie wines offer pure, svelte renditions of the unique terroir. He harmonizes the art of spontaneous fermentation with delicate whole-cluster usage, resulting in wines that reflect their origin while embodying Gérard's careful craftsmanship.

The estate's mainstay, Côte-Rôtie, primarily sourced from the Mollard lieu-dit, showcases a regal elegance and purity of fruit. The discerning tannins and the wine's ability to evolve with age serve as a testament to Gérard's adeptness in expressing the noble terroir of Côte-Rôtie.

Gérard's Côte-Rôtie La Landonne originates from a small, legendary plot. The wine possesses a more concentrated structure, promising a remarkable transformation with cellaring. Each wine spends an extended élevage in neutral 600L demi-muids and 228L barrels, which help retain the original fruit expressions while adding layered complexity.

The Saint Joseph Rouge Le Blanchard, made from 100% Syrah, is a noteworthy wine from a smaller parcel near Chavennay. With vines dating back to as early as the 1940s, this wine exhibits depth and layers, reflecting both the vine age and Gérard's skillful vinification.

Condrieu L'Arbuel, made from 100% Viognier, comes from several small plots with different planting years. The combination of diverse vine ages and unique locations contribute to the wine's multi-faceted personality, balancing ripe fruitiness with an appealing restraint.

Xavier Gérard's wines, while staying true to the traditional practices of Northern Rhône, mark a vivid illustration of his forward-thinking approach to viticulture and winemaking, making them a compelling choice for collectors and enthusiasts.