NV Krug Champagne Brut Grande Cuvee Edition 169eme
#163003275
Add to Favorites
Reviews 96 points Wine Advocate "Based on the 2013 vintage and complemented by some 40% reserve wines dating back to 2000, Krug's newly released NV Grande Cuvee 169eme Edition is showing very nicely, unfurling in the glass with notes of citrus oil, buttered toast, dried apricot, warm biscuits and marmalade. Medium to full-bodied, deep and incisive, it's a tauter, more chiseled rendition of Grande Cuvee by comparison with the richer, more textural and more demonstrative 168eme Edition (based on the 2012 vintage) that preceded it; but its bright spine of acidity is nicely cloaked in fruit. Concluding with a long and sapid finish, this is a very classically balanced Champagne that will reward bottle age. (WK)" 95 points John Gilman "The new release of Krug Grande Cuvee, the 169eme Edition, is from the base year of 2013, but includes fully forty percent of reserve wines all the way back to the harvest of 2000. The cepages for this new iteration of Grande Cuvee is forty-three percent pinot noir, thirty-five percent chardonnay and twenty-two percent pinot meunier. The wine is beautifully expressive on the nose, wafting from the glass in a complex blend of pear, apple, a touch of passion fruit, chalky soil tones, brioche, incipient notes of caraway seed, just a whisper of buttery oak and lovely floral tones in the upper register from the pinot meunier component in the cepages. On the palate the wine is deep, full-bodied, complex and racy, with a great core, zesty acids, elegant mousse and a very long, very pure and perfectly balanced finish. This is really a stunning new version of Grande Cuvee. It is approachable already, but I would be inclined to give it just a few more years in the cellar and let its girdle of acidity relax a bit more, so that the wine can deepen and broaden in its palate impression. Fine, fine juice. (JG)"
Ridiculously low 2-day shipping. Add to cart to calculate cost.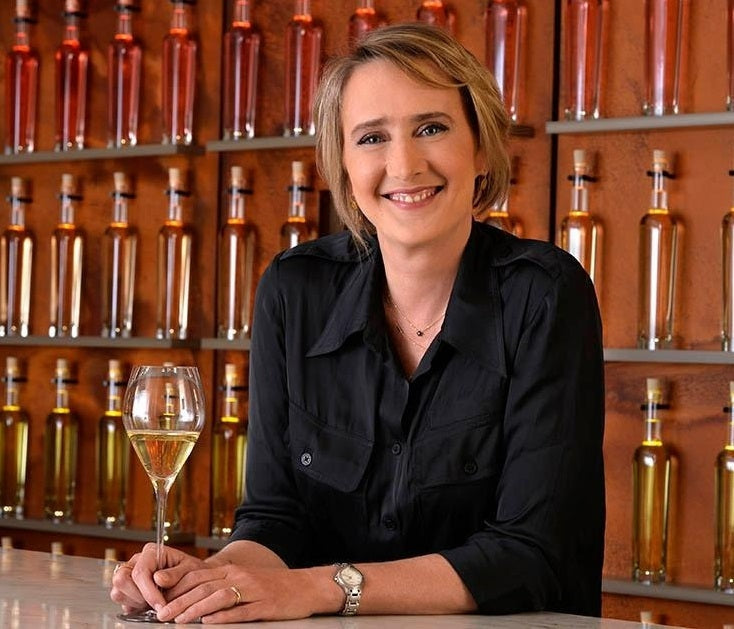 Hailing from Reims and standing firm since 1843, Krug is a globally-acclaimed Champagne producer revered for its extraordinary quality and ingenuity. While its ownership changed hands to Moët Hennessey in 1999, the sixth-generation Krug, Olivier, oversees the operations, ensuring it remains a family affair. Krug's wine portfolio consists exclusively of premium offerings, with 20 hectares of vineyards dedicated to Chardonnay, Pinot Noir, and Pinot Meunier grapes. Krug has begun transitioning to predominantly organic viticulture, although they have chosen not to seek certification for practical reasons.

Renowned parcels, such as Clos du Mesnil and Clos d'Ambonnay, deliver some of Krug's finest yields. A standout production from the house is the "Grande Cuvée," a harmonious blend of 120 base wines across 10 vintages, each maturing up to 15 years. The Krug team, under the guidance of Éric Lebel, promotes an intricate vinification process, employing neutral 205-L oak barrels for individual parcels - of which there are 250. They avoid malolactic fermentation to maintain mineral sharpness and enforce a lengthy cellar aging of 5 to 10 years before the wine sees the world.

Joseph Krug, the non-conformist founder, envisioned a Champagne house where all expressions held a distinct, uniform level of excellence. This dream continues to resonate within the Krug ethos, evermore amplified by subsequent generations. The painstaking attention to the character of each plot, coupled with a vast library of reserve wines, grants Krug the ability to deliver great Champagne year after year.

Krug's commitment to sustainability manifests in their ISO certification for environmental practices, energy management, and food safety management, leading the way for LVMH Maisons in receiving the Positive Luxury title.

Their Champagnes bear a unique signature with a nose of toasted, grilled, pastry, or almond notes, a result of at least 6 years of aging sur lies. The palate introduces fresh fruit, especially citrus, maintaining a freshness through careful grape selection. With residual sugar levels never exceeding 6.5g/L, Krug wines are predominantly dry, crafting an indelible impression of their relentless pursuit for distinction.